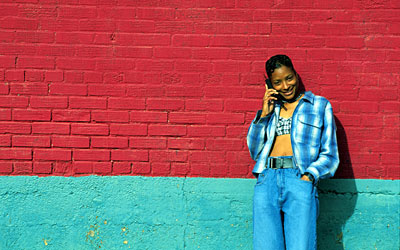 Verizon Wireless will begin immediately to expand its BroadbandAccess service nationally. Powered by Evolution-Data Optimized (EV- DO) third generation (3G) wide-area network, BroadbandAccess commercial service, with average user speeds of 300-500 kilobits per second (kbps), is expected to be available in many major U.S. cities this summer.
Denny Strigl, president and CEO of Verizon Wireless, said, "Verizon Wireless has earned the reputation as the nation's most reliable wireless service provider because of our focus on our network. Building on that success, we are offering BroadbandAccess to our business and individual customers who are ready to move to the next level of mobile communications: tremendous speed, rich graphic content, video, music and more. In announcing the national expansion of this exciting new service, we pledge to remain relentless in our pursuit of providing the highest quality voice and data services."
BroadbandAccess, the fastest commercial wide-area wireless data technology available today, is based on CDMA technology-a digital wireless technology commercially developed by QUALCOMM. Since October 2003, BroadbandAccess has been successfully deployed in Washington D.C. with Lucent Technologies, and in San Diego with Nortel Networks. This high-speed data network will be available to business and individual customers beginning in the summer of 2004 throughout significant portions of the Verizon Wireless national footprint, with additional markets phased in through 2005. Because it is backward compatible-a distinct advantage to using CDMA technology-customers who travel outside a BroadbandAccess area with an EV-DO device will seamlessly switch to Verizon Wireless' existing NationalAccess network, based on 1xRTT technology. In addition to its ongoing annual capital investment program to build network capacity and coverage, the company expects to invest $1 billion over the next two years to deploy its EV-DO technology nationally.
"As the first carrier to commercially launch wide-area broadband wireless data service in major markets, we have been extremely successful. Verizon Wireless BroadbandAccess customers in Washington D.C. and San Diego have told us the technology has improved their productivity and their ability to respond more quickly to their customers' needs," said Dick Lynch, executive vice president and chief technical officer for Verizon Wireless. "Not only will the expansion of our BroadbandAccess service solidify our position as the leader in wireless data innovation, but more importantly it will allow our customers to benefit from this high-speed data service in even more places."
Later this year Verizon Wireless customers in many major markets will be able to use new EV-DO handsets and laptops equipped with PC cards to enjoy the many new fun and visual capabilities. They will be able to experience Get It Now applications at broadband speed including multi-player gaming, music and video content, video messaging and other multi-media applications.
Working with virtual private network (VPN) connections, enterprise customers can use BroadbandAccess as an extension of their corporate local area network (LAN) or intranet, allowing them to work from any location within the BroadbandAccess coverage area, as if they were in the office. BroadbandAccess, with average user speeds of 300-500 kilobits per second (kbps), is ideal for downloading files and business-critical information residing behind corporate firewalls and for accessing e-mail, intranets and the Internet. BroadbandAccess uses CDMA EV-DO technology that has its own data protection and authentication and is designed to work with a business' existing IT infrastructure and security solutions.
"The fast, simple access that BroadbandAccess provides is changing the way the corporate world views wireless data. Not only is it easy to use, it is also easy for IT departments to install and maintain and requires only the same level of customer support as wired high-speed access," said Andrew Seybold, principal in Outlook4Mobility and editor-in-chief of Andrew Seybold's Wireless Outlook. "American consumers, who are already embracing new camera phones, will be blown away by the ways EV-DO enriches their wireless experiences. Imagine sharing video clips of special occasions with loved ones hundreds of miles away, or being able to participate in video calls with the important people in our lives. Verizon Wireless is on the path to the equivalent of the 'holy grail' in the wireless data world."
Enterprise customers can access information when they are on the road -- at customer locations, at job sites, in taxis, or on trains -- faster than with any competing technology. With data transmission bursts up to above 2 Megabits per second (Mbps), BroadbandAccess customers could download a 1 Megabyte e-mail attachment (for example, a small PowerPoint presentation or a large PDF file), or receive three digital pictures (each 400 x 600 pixels) in less than 30 seconds, which is three to four times faster than using EDGE service, and as much as ten times faster than on a competitor's GPRS network.
In the coming months, Verizon Wireless expects to offer additional BroadbandAccess devices, including additional PC cards, modem solutions for the office, and a wide range of the latest handheld mobile devices customized to present video, music and other content made more convenient and accessible by high-speed wireless service.
BroadbandAccess is part of VZOffice, a suite of business solutions designed to meet the connectivity needs of Verizon Wireless business customers. VZOffice combines complementary wireless voice and data solutions including NationalAccess, the company's national data network offering wide- area coverage and mobility at speeds comparable to dial-up to more than 230 million potential customers, and WiFiAccess, available in frequently traveled "hot spots", including many major airports and hotels.
"With the launch of BroadbandAccess in the Washington D.C. and San Diego regions, we consistently deliver customized, technologically advanced wireless solutions that meet our business customers' need for speed, security, coverage and reliability when it comes to wireless data access," said John Stratton, vice president and chief marketing officer of Verizon Wireless. "And we are committed to making this leading-edge service available to our customers in many parts of the country this year."
In October 2003, Verizon Wireless rolled out EV-DO in Washington D.C. that included coverage in the District of Columbia, the Reston and Alexandria, VA areas and the Rockville, MD area. In San Diego, CA, coverage extends from Oceanside south to National City and east to include Escondido, Poway and El Cajon.