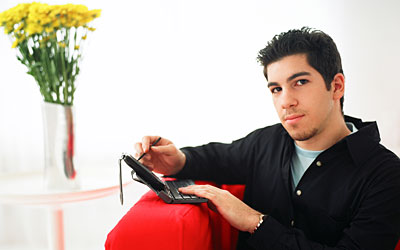 Openwave Phone Suite Version 7 (V7), including the pre-integrated IBM WebSphere Everyplace Micro Environment (WEME), will be available as part of PrairieComm's FronTier 3G reference phone platforms. PrairieComm delivers chipsets, embedded software and licensed intellectual property to leading consumer electronics companies serving the wireless market.
PrairieComm's multimedia-rich FronTier 3G reference phone platform boasts features similar to existing 2.5G handsets to reduce the cost of delivering 3G phones, while its highly integrated design facilitates the creation of small, stylish form-factors suitable for mass-market data phones. By combining Openwave V7 with PrairieComm's platform, handset manufacturers get a hardware design and application framework that meets the demands of 3G operators worldwide across the broadest base of users. Openwave's powerful V7 client software, including IBM's Java-based client technology, will be available first on PrairieComm's FronTier110 platform, a UMTS/GSM/GPRS platform for mass-market data phones.
"Affordable and exciting UMTS phones are critical to the success of 3G," said Rob Williams, general manager of the client product group at Openwave. "As more and more operators roll out their 3G networks and services, PrairieComm is well positioned to help manufacturers deliver the next generation of market leading handsets."
"Openwave's industry-leading messaging and browser solutions, along with IBM's WEME solution, are perfect additions to PrairieComm's FronTier 3G reference phone platform," said Jeff Bennett, Director of 3G Marketing, PrairieComm, Inc. "The collaboration of our companies creates a full-featured yet flexible 3G offering that is unrivaled in the industry."
Several leading phone manufacturers have licensed and plan to utilize Openwave Phone Suite V7 in phones scheduled to ship during this year. The suite provides a one-stop solution for meeting carrier requirements for browsing, client provisioning, download, digital rights management, java, multimedia messaging, email, synchronization, file management, device management, instant messaging, and mobile location. V7 also features groundbreaking user interface capabilities allowing operators and manufacturers to harness the power of the phone, innovating on top of core mobile data technologies to deliver custom experiences and new value added data services for end users.
Openwave provides open mobile phone software, multimedia messaging software (MMS), email, location and mobile gateways and services.
PrairieComm develops and markets chipsets, embedded software and licensed intellectual property for TDMA, GSM, CDMA, EDGE, and UMTS (WCDMA).