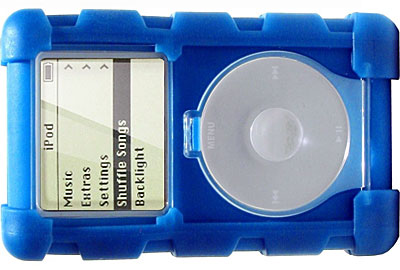 ToughSkin from Speck Products is the first ruggedized iPod skin. Designed with shock-absorbing, rubberized bumpers and a tear-resistant plastic skin, the ToughSkin provides active iPod users with a cover that can withstand the dust, knocks, and scratches associated with extreme lifestyles.
The cover fits all fourth generation iPods, including the 20 and 40 GB iPod with Click Wheel and iPod Photo, and will soon be available for iPod mini. Its slim, protective case features ruggedized bumpers, detachable belt clip, and screen and scroll wheel covers. Tough Skin is fabricated using Kraton thermoplastic elastomers to ensure skintight fit with a soft, tactile grip.
"Until now, iPod users have been limited to flat, one dimensional skins that do little to make a fashion statement or protect their device from heavy-duty use," said Tim Hickman of Speck Products. "We know most iPod users take their player with them wherever they go, in their purse, briefcase, backpack or suitcase, and over time they can really take a beating. ToughSkin strikes the perfect balance between fashion and ruggedness, delivering a skin that's tough but looks great too."
The rugged cover costs $34.95. It comes in five vibrant colors, including frosted clear, black, blue, red, and orange.
Speck Products provides innovative computer accessories for PDAs and MP3 players.