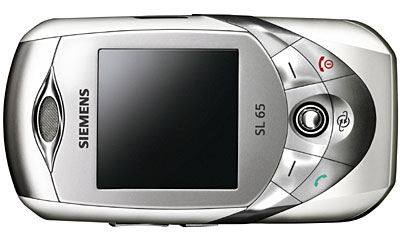 The SL65 is a new slider phone combining an extraordinary and innovative design concept with state-of-the-art high quality technology. Video camera, 65,000 color TFT display and 5 times digital zoom are among the features that make the SL65 a worthy and elegant successor to the SL55.
The SL65 makes a bold first impression with its design. At the heart of this is the innovative slider mechanism but once you open the phone you experience technology of the highest caliber. The built-in video camera of the SL65 weighs only 99 grams, has 5x zoom, 8 frames per second and a 640 x 480-pixel resolution. This VGA camera allows films to be recorded and played back later and the high-resolution 16-bit color display with 65,000 colors shows clips individually recorded with the H.263 video player to their best advantage. Single moments can be captured at any time of day using the photo function and the attachable Flash IFL-600, which has automatic exposure control even under low light conditions. Flexibility is the key when it comes to sharing moments: Videos and images can be sent with text and sound by email or MMS to friends and family from almost anywhere in the world using triband and by a fast data connection using GPRS. Up to 14.4 kbps per CSD and up to 53.6 kbps can be transmitted and used to download WAP content.
Thorsten Heins, President of the Mobile Phones division within Siemens mobile, explains: "With the SL65 Siemens mobile continues to successfully combine design with state of the art technology and the SL65 provides a worthy successor to the acclaimed SL55."
Wireless Java technologies ensure a wide range of applications are available. Specially developed graphical themes to personalize the phone and 3D Games are also part of the SL65 package. The new SL65 has a wide range of logos, backgrounds and ring tones in polyphonic sound. A full suite of business functions also allows seamless synchronization of the organizer.
Siemens new design phone is offered with a wide range of Siemens Original Accessories to allow maximum convenience. Besides the attachable Flash, a range of headsets including the Headset Purestyle and convenient car solutions like the Car Kit Comfort, Car Kit Comfort Upgrade or the innovative plug & play Car Kit Easy with integrated mobile holder are available. There is also a choice of chargers and data solutions like the SyncStation or Data Cable USB as well as a practical Textile Case.
The mobile phone will be available in Europe and in Asia from September 2004. Prices will be made available locally.
Siemens Mobile offers mobile phones, cordless phones, wireless modules and mobile infrastructure including radio and switching components, enabling services and applications, consulting services and systems integration.