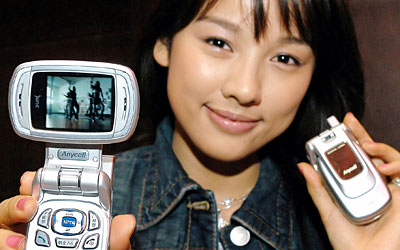 Samsung launched an upgraded version of its horizontal LCD phone, a new form-factor introduced by the company last year. The SCH-V600 boasts a more compact design and improved features while maintaining the basic product concept of its popular predecessor, the SCH-V500.
The V500's first-ever innovative pivotal LCD screen which allows users to view images and video files horizontally.
The improved V600 has a more sophisticated design and smaller size, despite which the buttons are spaced for ease of use.
Embedded with a high-speed MSM 6500 CPU chip, the V600 offers faster menu selection and an enhanced gaming experience. Two horizontal mode games and three vertical mode games are embedded in the phone.
It also features a 1.3 megapixel camera and external transflash memory chip.