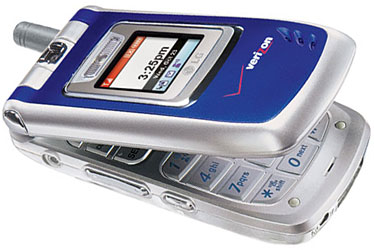 Verizon Wireless recently launched the VX7000 camera phone. Available exclusively to Verizon Wireless customers, the VX7000 with its advanced features, such as a rotating lens, embedded flash and video messaging, helps capture all of life's moments as they happen.
The VX7000's embedded VGA camera features bright LED flash, so mobile shutterbugs never miss a photo opportunity. With capability to capture video and still photography, the VX7000 gives users more freedom to record memories than ever before, and the rotating lens, flip image option and zoom control give photographers the chance to compose the perfect picture. Additional features like night mode, brightness adjustment, white balance adjustment, color effect adjustment and digital zoom capability, give customers the greatest flexibility with their photographs.
"With the VX7000, LG is providing Verizon Wireless customers with the chance to express even more of their personality and creativity through their phone," said Jeff Hwang, vice president of marketing for LG Mobile Phones. "The VX7000 handset allows users to capture special moments to share with friends and family -- it is truly the essence of technology chronicling the sweet parts of life."
Verizon Wireless customers can also get the new Mobile Web 2.0 on their VX 7000s for $4.99 monthly access, plus airtime. Mobile Web 2.0 allows customers to more easily access the latest news, tools and information from more than 30 content providers, read and send email and exchange instant messages (IM). Available from select phones including the LG VX 7000, Verizon Wireless' Mobile Web 2.0 is packed with new features and enhancements, including new graphics, easier navigation, clickable headlines and premium content.
The VX7000 is also Get It Now-enabled, offering customers even more options in an already full-featured device. With several shopping aisles, Get It Now provides access to downloadable applications including games, ringtones, productivity tools and more.
Bill Stone, vice president of marketing at Verizon Wireless, said, "When our customers see how easy it is to use many of our great services on the LG VX 7000, they'll be hooked. Whether it's a tremendous camera phone and picture messaging, Mobile Web 2.0 or video messaging, the user experience is second to none. Best of all, these services come from the company respected for operating the nation's most reliable network."
Signup for either Mobile Web 2.0 or any of the Get It Now applications is a snap -- Verizon Wireless customers can register for the Mobile Web 2.0 right from their wireless handsets by visiting the Get News & Info section on the Get It Now menu. Customers can also browse the Get It Now menu by category to select and download one or more applications that suit their style.
Download charges for Get It Now applications vary and airtime charges apply when browsing, downloading and using certain applications. Customers need a Get It Now-enabled handset and Verizon Wireless digital service to access the Get It Now virtual store.
The LG VX7000 is available for $179.99 after a $70 mail-in rebate with a two-year customer agreement at Verizon Wireless stores and participating Circuit City and RadioShack locations.