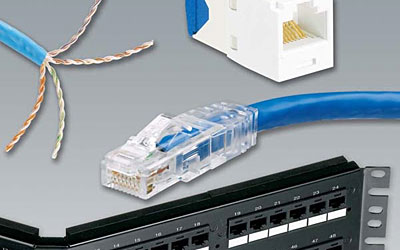 The Panduit Synergist 10GIG UTP Copper Cabling System delivers a true, end-to-end 10 Gigabit Ethernet solution. Each component features innovative complementary design technologies which work together to achieve balanced performance. Modular and scalable, the system provides a cost effective media for high bandwidth data center, workstation, and web-enabling applications of today and tomorrow.
This system provides certified performance in a 4-connector channel up to 100 meters and exceeds the requirements of the 10 Gigabit Draft 1.0 amendment to IEEE Std. 802.3an, dated October 2004. The components work together to suppress Alien NEXT while providing Class E/Category 6 augmented electrical performance beyond 500 MHz. The Synergist 10GIG UTP Copper Cabling System consists of TX6 10GIG Jack Modules, TX6 10GIG UTP Copper Cable, TX6 10GIG Patch Cords, DP6 10GIG Patch Panels, and GP6 PLUS Punchdown System.
"Initial response to the launch of this revolutionary new system has been exceptional," reports Andrew Caveney of Panduit. "After extensive research and competitive analysis, the Synergist 10GIG UTP Copper Cabling System has already been selected by a technology-driven, Fortune 25 organization for large-scale data center deployments."