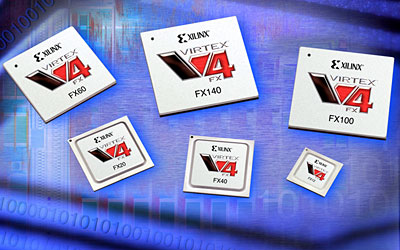 Xilinx has announced delivery of its new FX12 FPGAs -- the first Virtex-4 devices with embedded Power PC processor. Shipped last week, the FX12 is the fifth member of the Virtex-4 family, bringing the total number of Xilinx devices shipping on the 90-nanometer (nm) node to 13. With the shipment of the FX12, Xilinx has now delivered devices from all three Virtex-4 platforms: the logic-optimized LX platform, the DSP-optimized SX platform, and the embedded processing-optimized FX platform.
"Delivery of the FX12 marks a major milestone in FPGA development by providing unprecedented levels of performance and capability with ultra low power consumption and cost," said Erich Goetting of Xilinx. "This unique combination builds on the tremendous momentum we have established with the Virtex-II Pro family and enables a host of new applications in a wide range of markets including automotive, communications, storage, medical as well as test and instrumentation."
The Virtex-4 FX12 features a 32-bit embedded Power PC processor running at up to 450 MHz and delivering over 700 Dhrystone MIPS -- providing a direct 3x performance advantage over processors in competing 90nm FPGAs. An innovative auxiliary processor controller unit allows the processor to execute custom instructions in the FPGA fabric. The APU controller enables FX devices to deliver an astounding 20x-performance increase over fixed-instruction approaches as demonstrated by a recent encryption/decryption design created by Xilinx Research Labs.
Consuming a mere 0.45 mW/MHz, the FX12 processor core provides the world's lowest Power PC power consumption. This low power is complemented by the triple-oxide technology used throughout Virtex-4 devices -- reducing power to approximately half that of previous generation FPGAs. The low-power embedded Power PC processor and triple-oxide technology combined reduce power to a fraction of that consumed by processors in competing 90 nm FPGAs.
Two, fully integrated UNH-certified 10/100/1000 Ethernet MACs further increase the Virtex-4 FX12's capability by enabling system communication and management functions, while saving up to 7,200 logic cells and further reducing power consumption. These include such critical functions as TCP/IP Offload Engines that require a full MAC plus TCP/IP stack.
Since Virtex-4 FX devices are fully backward compatible with the Xilinx Virtex-II Pro family, the devices support easy design migration of both hardware and software. Xilinx Virtex-II Pro and Virtex-4 FX devices are the world's only FPGAs with embedded processors capable of running Monta Vista Linux, QNX or Wind River Vx Works operating systems to further simplify system design and integration -- in addition to Express Logic ThreadX, Green Hills Integrity, Mentor Graphics ATI Nucleus, Micrium uC/OS-II, and Mind eCOS.
Virtex-4 FX devices are fully supported by the Xilinx Platform Studio (XPS) solution, the advanced tool suite recently chosen as a finalist in the International Engineering Consortium (IEC) DesignVision Awards program. Virtex-4 FX designers access the XPS suite with the Embedded Development Kit v6.3i which includes over 60 state-of-the-art soft peripherals.
Developed in close collaboration with IBM, the Xilinx implementation of the Power PC processor core in FX devices is the world's first shipping samples at 90nm and continues the Power PC processor's increasing industry momentum. This momentum is represented by the Power PC's widespread adoption in the Xilinx Virtex-II Pro family of FPGAs, as well as all three of the next generation gaming systems from Sony, Microsoft, and Nintendo.
The Virtex-4 FX12 is available now, with volume pricing starting at $29.99 for 50K units at the end of 2005.
Xilinx supplies programmable logic solutions and invented the FPGA.