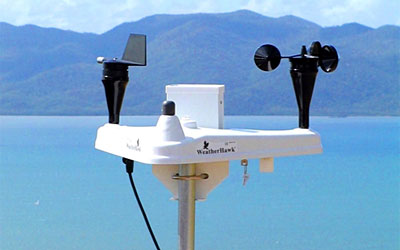 WeatherHawk weather stations are easy to install and use and are constructed to industrial quality standards for high reliability.
The wireless weather stations can be easily installed by business or facilities managers in minutes to provide precise local weather information. The WeatherHawk is supplied preconfigured with wind speed, wind direction, air temperature, relative humidity, solar radiation, barometric pressure and rainfall sensors fully installed and ready for use. In addition to the seven basic weather parameters, WeatherHawk and its companion software Virtual Weather Station provide heat index, dew point, and wind chill.
With this exciting and easy to install system a resort, hotel, bed and breakfast inn, or other hospitality business can use their weather to better promote their location. Until now, businesses have had to depend upon weather data from general sources, which may not be locally correct because it is based on regional climatic data. WeatherHawk reports the micro-climate (local) data, in real-time using display software that also posts the information on any website, 7 days a week, 24 hours a day.
WeatherHawk can even be integrated with an internet connected video camera to fully promote a leisure/recreational location with visual information that directly relates to the weather display.
Hardware options such as AC power converters, tripods, grounding kits and stake kits enable the user to adapt the standard WeatherHawk to virtually any installation or input power requirement. A solar power option eliminates the requirement for external power, or battery changes, by using solar energy to recharge the battery pack that included with every WeatherHawk. A WeatherHawk weather station can be fully independent of location power and data connections, and nearly maintenance free.
WeatherHawk is manufactured in the United States, and supported worldwide through a combination of affiliated companies and independent dealers.