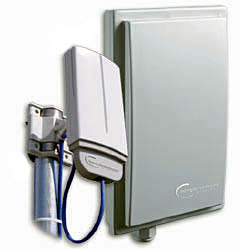 Trango Broadband Wireless has received FCC approval of the 5.8 GHz TrangoFOX high-speed wireless subscriber unit. The FOX product series works in conjunction with the company's Access 5830 point-to-multi-point access solution.
"The affordability and small form factor of the TrangoFOX allows service providers to quickly expand their market share, especially in residential areas. Dollar for dollar, the FOX product line is unmatched at providing the best performance of any customer premise solution on the market today," said Zdravko Divjak, president and CEO of Trango Broadband.
Trango Broadband has already begun shipping the TrangoFOX product line for customer trials and will ship to other customers later this month through the company's recently established distribution channels. FCC approval on the 5.3 GHz TrangoFOX is expected within the next several weeks.
Trango Broadband designs and manufactures robust, high-performance wireless solutions for broadband service providers, specializing in 5 GHz fixed multi-point wireless broadband systems.