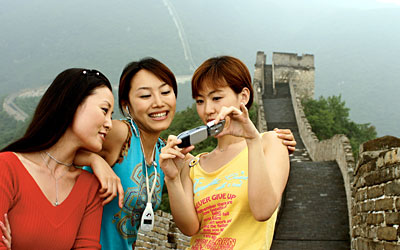 | | |
| --- | --- |
| | WiMAX Base Station Aperto carrier-class PacketMAX 5000 declared WiMAX Forum Certified for broadband wireless IEEE 802.16-2004. |
| | Mobile WiMAX 802.16e wireless standard to take VoIP calls, stream multimedia, and transfer large files while traveling at vehicular speeds. |
| | Satellite WiMAX broadband wireless networks providing IPTV and other services for handheld devices such as smartphones and laptops. |
| | Intel WiMAX wireless broadband interface offers programmable architecture for indoor and outdoor last-mile high-speed Internet access. |
| | WiMAX 802.16 radio network technology ideal for providing wireless, stationary, nomadic, and broadband Internet access to companies and homes. |
Seamless Broadband Access - Strategic alliance for the definition, standardization, development, integration and marketing of WiMAX end-to-end solutions
OFDM WiMAX 802.16a standard for wireless metropolitan area network technology will provide high-speed connectivity to support both backhaul and access applications.
FWB : Fixed Wireless Broadband will grow with new high bandwidth wireless Internet standards.
Rail Broadband communications to high-speed trains, including real-time video security, video advertising, and broadband wireless Internet.
Siemens Mobile announced plans for a complete solution for WiMAX radio networks (Worldwide Interoperability for Microwave Access), expected to be available in the second half of 2005.
In addition to base stations based upon the IEEE 802.16d standard for fixed wireless broadband, the solution also will encompass integration and service offerings. Siemens has joined together with Intel and the WiMAX Forum industry organization to advance the IEEE 802.16 standard. Within this context, Intel and Siemens will work together on the development of WiMAX base-station infrastructure equipment as well as end user subscriber station devices to deliver to providers when the Siemens WiMAX solution is launched.
Due to its range and data rates, WiMAX technology based on IEEE 802.16d is ideally suited for providing wireless, stationary, broadband Internet access to companies and private households. In addition, the IEEE 802.16 standard includes a mobile variant that will allow enterprises to serve nomadic notebook users who need to log on to the Internet or intranet from different locations inside and outside the company.
Wireless networks on the basis of the new IEEE 802.16 standards will help both fixed and mobile network providers open up new market segments for Internet access, even in thinly settled areas. This wireless technology also is an advantage where it is impossible to run underground cables. This makes WiMAX an extremely practical supplement to technologies such as DSL and UMTS.
With the IEEE 802.16 standard, carriers are able to offer enterprise and end customers more options for broadband connectivity at a lower cost. For many people worldwide who cannot get access to broadband connectivity via cable or DSL, the new wireless technology will be their way to the Internet.