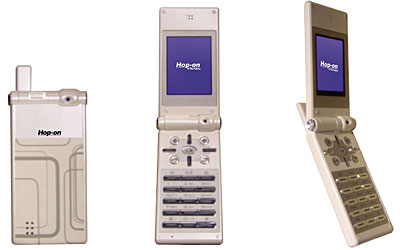 A new ultra thin cell phone named The Blade was designed to combine the latest in mobile fashion with advanced technology.
The Blade from Hop-on is packed with extended features for people who want to capture memories, play games, and enjoy life. With a built-in 1.3 Megapixel camera, customers can send photos in an instant. This dual-band (900/1800 MHz) GSM/GPRS phone contains 40 polyphonic ring tones, Smart Voice technology, an enhanced WAP browser, and MMS messaging capabilities (picture, text, and sound), all in a slim clamshell design. The powerful 262K TFT display is perfect for checking out the latest Java-enabled games, multimedia, and downloadable pictures and ring tones.
Dan Gannon of Hop-on commented, "When consumers see The Blade we expect they will say 'this is cool.' Our latest phone is small, ultra thin, light and cool looking. Memory and long battery life will let consumers use the phone's advanced video-capture features, color display, and numerous ring tones.
Hop-on develops and markets wireless phones and accessories as well as wireless surveillance systems.