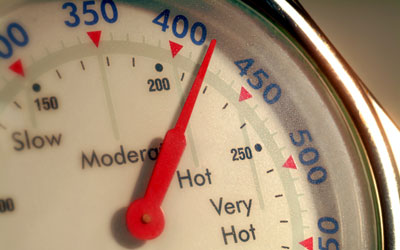 IXYS Corporation has received additional substantial orders for its MX805 system on a chip (SOC) wireless temperature sense IC from one of its customers, who is a technology leader in temperature sensing instruments.
The MX805, with nearly one million units already deployed, is the primary display and control IC used in portable and handheld "contact-less" thermometers that are used to sense temperature without touching the target. Such instruments find popular use as diagnostic tools in automotive, food safety and service, fire safety and protection, HVAC service and maintenance, industrial machinery maintenance, quality process control, electrical power distribution monitoring and other applications.
"Recently these instruments that use our chip have been deployed worldwide, as a medical screen in the fight against the spread of SARS, by monitoring visitors and passengers as they pass through entry gates or board airplanes," said Bob DeCaro, General Manager of IXYS' Clare Micronix division. "We are proud that we were chosen to develop this second generation temperature sensor SOC that includes the display driver, and is basically a highly accurate and wide temperature range instrument on a chip. We provide our customer a flexible world-class solution, offering superior performance at an attractive price."
The Clare Micronix division of IXYS designs and produces high performance analog and mixed signal ICs. Micronix has produced over 300 application specific integrated circuits (ASIC) and application specific standard products (ASSP) for the display, telecommunications, industrial, power management and medical diagnostics markets. In the display markets, Micronix is a leader in the development of OLED Driver ICs for the next generation flat panel displays for cell phones, automotive, handheld computers and e-books.
IXYS develops and markets primarily high performance power semiconductor devices that are used in controlling and converting electrical power efficiently in power systems for the telecommunication and internet infrastructure, motor drives, medical systems and transportation. IXYS also serves its markets with a combination of digital and analog integrated circuits.