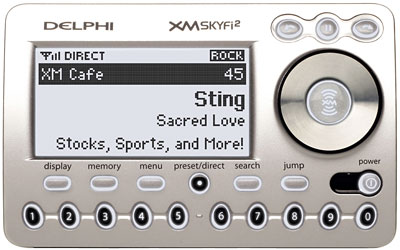 Delphi and XM Satellite Radio have introduced the new Delphi XM SkyFi 2 next generation SkyFi satellite radio receiver.
The Delphi XM SkyFi 2 takes SkyFi and makes it even better by adding several new exciting features, including the first-ever pause and replay functions for satellite radio. Utilizing leading edge technology, the 30 Minute Replay function continuously and automatically saves the last 30 minutes of programming -- including programming from multiple XM channels. In addition, listeners can pause the program they are listening to with the option to play back that programming within 30 minutes. The unit also has a built-in wireless FM modulator, personalized stock ticker, personalized sports scores, a clock, TuneSelect by song and artist and much more.
The new vehicle kit is upgraded for wireless FM modulation through the antenna allowing users to easily self-install SkyFi 2 in their vehicle. SkyFi 2 also features a new, easier to read display and will work with all existing SkyFi accessories including the Delphi CD Audio System. Additional features include a large scroll wheel, convenient remote control, direct channel entry, the ability to preview and channel search by channel name, artists and song titles, and 30 channel presets. All of this combines to give users the most opportunity to experience more than 120 XM channels of revolutionary programming including news, sports, traffic, weather, and 68 commercial-free music stations.
"Our new Delphi XM SkyFi 2 is the first satellite radio receiver to offer listeners the ability to pause and replay their favorite XM program," said Joe Damato, director of consumer electronics for Delphi Product and Service Solutions. "Everyone has experienced the frustration of an untimely telephone call or wished they could hear that song again while enjoying their favorite program. SkyFi 2 addresses these problems simply and elegantly -- making it a must-have product for dedicated XM listeners."
The Delphi XM SkyFi 2 will be available at most major consumer electronics retailers this fall for $129.99. Optional new home and vehicle adaptor kits are also available for $69.99.