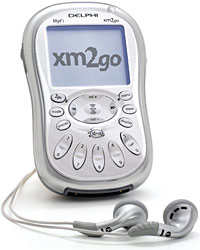 The Delphi MyFi is the first personal, portable XM2GO satellite radio that delivers XM anytime, anywhere -- at home, at work, in the car, and on the go.
"The Delphi MyFi is the next generation of satellite radio," said Frank Ordonez of Delphi. "This month marks the 50th anniversary of the portable transistor radio, which revolutionized the audio world. Today, Delphi and XM continue their tradition of satellite radio breakthroughs with MyFi, another industry first."
The hand-held MyFi gives users the personal freedom to enjoy XM Radio's Ultimate PlayList of more than 130 digital XM channels in two ways: a live listening mode and a time-shifting memory mode. The MyFi's live mode enables users to listen live to all of XM's 68 commercial-free music channels, plus premier news, sports, talk, traffic and weather channels. MyFi's memory mode -- called My XM -- allows users to store five hours or more of XM's outstanding content with the press of a button, even when the unit is not in use. The MyFi makes it possible to enjoy XM Satellite Radio anywhere, anytime, effortlessly.
"MyFi is a revolutionary product that dramatically expands XM Radio's appeal and potential subscriber base," said Hugh Panero of XM. "Consumers have been waiting for a wearable satellite radio that also works in the car and home. XM and Delphi are thrilled to make this product a reality in time for the upcoming holiday season."
The MyFi satellite radio comes with all of the accessories needed to enjoy XM at home, at work, in a vehicle or on the go. As the most advanced satellite radio available, the MyFi offers a complete package of components and features:
Components
Hand-held MyFi receiver (weight: 7.3 ounces)
Rechargeable, integrated battery
Complete home accessory kit
Complete vehicle accessory kit
First-ever built-in XM antenna
Headphones
Remote control
Belt clip/stand
Carrying case
Features
Large, illuminated six-line LCD display
Up to 30 channel presets
Live XM listening mode
My XM time-shifting memory mode (minimum of 5 hours)
Stock ticker
Sports score ticker
Built-in wireless FM transmitter makes any FM radio an XM Radio
Built-in alarm clock
The MyFi will be available in early December for $349.99.