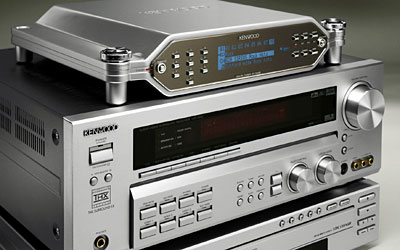 Satellite broadcaster Sirius and multimedia product producer Kenwood today unveiled the satellite radio industry's first dedicated home satellite radio receiver at the CEDIA Expo in Indianapolis. The first-of-its-kind satellite radio receiver will be available at electronics retailers across the country beginning in October and will allow subscribers to listen to Sirius' 60 streams of 100 percent commercial-free music and more than 40 streams of premium broadcast talk, news and entertainment, all in the comfort of their homes.
The Kenwood DT-7000S, styled with a sleek high tech design, allows consumers to play Sirius' 100 streams of digital entertainment over home audio systems. New satellite radio features, such as the capability to display and catalogue the names of subscriber's favorite songs and artists, will make the home unit a hot holiday item and must-have for any music fan.
"Music and entertainment fans can now enjoy a breadth of choice in premium audio programming in the home that you can't get from any other type of entertainment service or Internet Web site," said Larry Pesce, Vice President, Product Management at Sirius. "Kenwood has once again delivered on its promise to produce products that are not only elegant in design but also offer the consumer unprecedented flexibility in controlling when and where they wish to enjoy the Sirius streams. Through the use of the RS-232C port on the back of the Kenwood DT-7000S, the custom installer or home audio enthusiast can take full control of accessing our streams from a remote location. This is a terrific feature for those looking to home network their audio components."
"Kenwood continues to lead the electronics industry in developing products that will build consumer excitement and acceptance for satellite radio," said Bob Law, Senior Vice President of Kenwood USA. "Sirius and its diverse, commercial-free music streams have the power to restore radio as people's primary choice for music entertainment. The DT-7000S receiver offers performance, features, and styling that will continue to draw customers to Sirius as their first choice for satellite radio in the home."
The Kenwood DT-7000S Sirius home receiver has features and functions that you won't find in a typical radio:
Easy-to-Read Four-Line Scrolling Display - displays stream number and name, artist name, song title and program category.
Song-Seek - allows a listener to check what is playing on another stream while continuing to listen to the current selection.
Memo - allows listeners to bookmark a song's title and artist information they want to remember.
Customized Presets - listeners can add a customized name, such as "Dad," "Jazz" or "Mary," to any bank of stream presets, allowing users to quickly select a profile of favorite streams by name.
The DT-7000S connects to just about any home audio receiver or pre-amp via its gold-plated RCA jacks or digital optical outputs. To facilitate installation with advanced home audio control systems, Kenwood has equipped the DT-7000S tuner with an RS-232C port. A full-function remote control is also included.