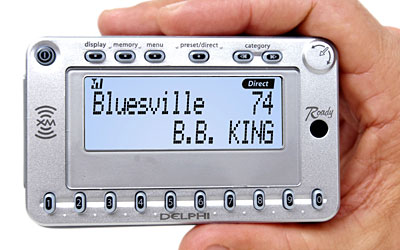 The Delphi XM Roady satellite radio has been named a "Best Product of 2003" by BusinessWeek, the world's most widely read business magazine, in its December 15 issue. Delphi and XM Satellite Radio also announced the introduction of new accessories for the Roady: a wireless FM adapter for car radios and a free Roady home adapter available through a special holiday promotion.
In its annual list of the year's most innovative products, BusinessWeek wrote, "With coast-to-coast channels and few commercials, subscription satellite radio is the biggest change in radio since FM. There's no easier way to get it than Delphi's Roady."
The Roady, the first complete satellite radio solution for under $120, is the most affordable option for listening to XM's 101 channels of music, news, sports, and entertainment on the road or at home. As a BusinessWeek "Best Product of 2003," the Roady is part of an elite group, including Intel's Pentium M chip, the new $20 bill, and the AIDS medicine Fuzeon. Also selected were the Cadillac XLR roadster and the Scion xB, two of the more than 80 vehicles that feature XM Satellite Radio.
"The Roady is proving to be a very hot product this holiday season," said Hugh Panero, President and CEO of XM Satellite Radio. "We're flattered to be recognized by BusinessWeek as a 'best product of 2003,' and we're grateful to the more than 1 million customers that have made XM one of the fastest-growing entertainment media in history."
"We are very proud of this important recognition for the Delphi Roady," said Francisco (Frank) A. Ordonez, president, Delphi Product & Service Solutions and vice president, Delphi Corporation. "As we expand our product portfolio in the consumer electronics market, our satellite radios featuring XM continue to collect awards and accolades for being the best products in their class."
In addition to the BusinessWeek list, XM and Delphi were recently spotlighted as a holiday gift recommendation by several major publications, including People magazine and The New York Times. Best Buy, the nation's leading consumer electronics and mobile electronics retailer, recently announced that the Roady is the "most-wanted mobile electronic accessory this holiday season" and declared XM to be the "hottest trend in car audio."
The new Roady wireless audio adaptor, designed for car radios without cassette decks, transmits XM to a vehicle's FM radio and powers the Roady receiver. This sleek accessory plugs conveniently into the vehicle's cigarette lighter.
The new Roady home adaptor allows Roady to work with home stereos equipped with RCA audio-in connectors or with a set of powered speakers. In a special holiday promotion, XM is making its home adaptor available free-of-charge for consumers who purchase a Roady before Dec. 31, 2003. Roady customers who send in proofs of purchase will receive the home adaptor by mail delivery.
"The Roady wireless vehicle adaptor and home adaptor make a very appealing product even more attractive to holiday gift buyers," Panero said.