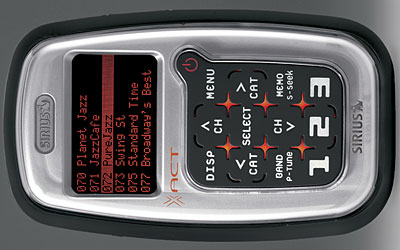 Sirius today announced the introduction of the next generation satellite radio based on the latest Sirius technology. The Sirius Xact XTR1 Stream Jockey Plug and Play satellite radio, manufactured by Xact Communication, resembles a cell phone. The new unit is palm sized and includes the following features:
6-line screen display
S-Seek
Program alert
Remote Control
Internal FM transmitter for wireless connection
18 presets
Distinctive styling
Integrated headphone input and volume controls
Car/home and universal docking kits
3 boom box options (1 model with MP3 CDs/CDRW and a digital AM/FM radio tuner with 10 presets)
"We are thrilled to be introducing the first satellite radio receiver featuring our newest technology on the Home Shopping Network," said Bob Law, Senior Vice President, Retail Operations for Sirius. "The Xact Stream Jockey by Xact Communication is a very exciting product designed for maximum appeal, and includes features that make it extremely versatile. We believe that it will be very popular with consumers."
One of the other unique features of the Xact "Stream Jockey," is that it can be used as a stand-alone receiver, connected to speakers or headphones. Or, it can be wirelessly connected to a vehicle's in-dash radio, or home stereo system, like other Plug and Play satellite radios.
"All you need is to get the satellite signal, and you're ready to go," said Ben Lowinger, Senior Vice President of Xact Communication. "This product gives the listener the ultimate flexibility. You can use it in a vehicle, boat, home, or office. When you match the Xact Stream Jockey with the premium programming Sirius provides, you have an unbeatable combination, and we are very excited about offering this product."
The price will be $99.99 for the unit itself and $59.99 for the universal docking station that can be used in the car or the home. Separate docking stations for car and home will be sold for $49.99 each. Prices for the boom boxes will be announced at a later date.