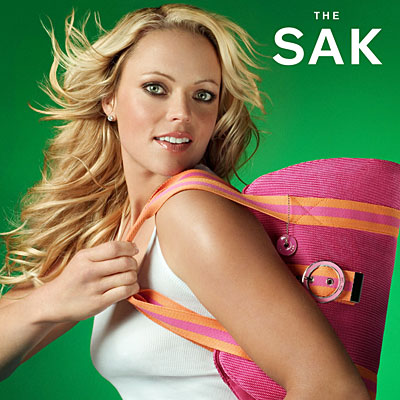 Handbag brand The Sak will feature Olympic gold medalist softball player Jennie Finch in its spring 2005 advertising campaign. These images are slated to hit the March issues of InStyle, Glamour, Lucky, Marie Claire, and Teen Vogue.
Jennie recently answered questions about her engagement and the upcoming wedding.
"We strive to set ourselves apart from the competition by taking a distinctive approach to all areas of our business. By showcasing a star athlete, we are offering the customer a key role model and exciting spokesperson," explains Mark Talucci.
This has been an exciting year for Jennie, both personally and professionally. In addition to winning her first gold medal and becoming the spokesperson for The Sak, Jennie is soon to be married to Arizona Diamondbacks pitcher Casey Daigle. "This year has been amazing, and my association with The Sak has truly topped it off. I've always loved The Sak and couldn't resist the opportunity to represent the brand on a national level," explains Jennie.
This partnership is groundbreaking for both Jennie and The Sak. This is the first time that Jennie will be featured in a fashion ad campaign, while The Sak has never employed a star athlete or celebrity in its previous initiatives.
The campaign was photographed by Joshua Jordan, known for his work in major fashion magazines such as Harper's Bazaar, Glamour, Cosmopolitan, Vogue, and Vanity Fair. The handbags highlighted in the campaign are Pixie, Mia, and Belinda. Pixie is a lady-like shoulder bag shown in a multi-color grosgrain weave; Mia and Belinda are sporty hobos in vivid brights.
These styles demonstrate The Sak's distinctive, fun look and feel for spring 2005. The target audience is more of a lifestyle than an age group. "The Sak customer is defined by her fashion sensibility. Her aesthetic and lifestyle are more relevant to us than her age or other demographic."
The Sak handbag is sold in the United States and in twenty-two other countries.