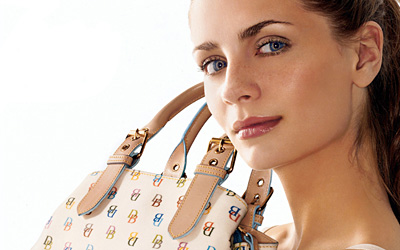 When Dooney & Bourke founder and designer, Peter Dooney, decided to create a collection of handbags for a younger customer, he went straight to the source. With a little help from Teen VOGUE magazine, the Dooney & Bourke "IT" Team was formed. The magazine selected 4 of their "It" girls and placed them in a group with 4 senior accessory design students from the Fashion Institute of Technology in New York City. The group then headed directly to Milan for inspiration. The whirlwind week itinerary included trade shows devoted to handbags and leather factory visits, a trip to Switzerland to design the zipper, design meetings, and down time for some personal shopping.
The result is the "It bag" Collection. The colorful new collection is composed of six new styles and will be the first in its class to be directed specifically to Dooney & Bourke's teen market. Scheduled to hit Dooney & Bourke retail boutiques for Fall 2003, the handbags will also be available at department stores such as Macy's, Bloomingdales, Nordstrom, and May Co.
Dooney & Bourke will support the collection with a print ad campaign featuring up-and-coming actress, Mischa Barton, star of this fall's FOX television series "The O.C." The ad will launch in Teen VOGUE's August/September issue and will run through the end of the year.
Dooney & Bourke has over 25 years of experience combining superior materials and fine craftsmanship with traditional designs to create enduring, functional fine leather goods built to weather the years with a timeless, classic style. Dooney & Bourke goods improve with time and wear to become a distinctive expression of their owner's unique style.