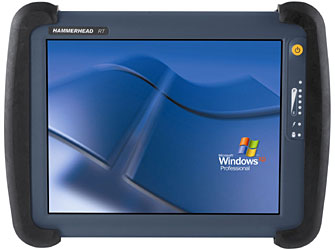 WalkAbout Computers introduced their new line of Hammerhead RT value-class rugged Tablet PCs. The Hammerhead RT800 and RT933 meet the needs of previously unaddressed market demands for customers who require rugged attributes in a lighter, less expensive package. This new value-class offering, combined with their industry-leading, fully rugged, Hammerhead XRT performance-based model, gives WalkAbout a complete range of qualified rugged PC solutions.
Designed to meet MIL-STD 810F specifications with an IP64 rating, the 3.9 pound Hammerhead RT continues the long-standing WalkAbout tradition of providing customers with a rugged product that performs flawlessly in extreme temperatures, wet environments and other demanding situations -- whether behind a desk, on the road or out in the field.
"Our 7th generation of rugged tablet computers was created to meet the growing demand among mobile workers for a lightweight, highly reliable computer that can be used in indoor and outdoor environments, while still offering a high degree of ruggedness," says Dave Grainger, CEO WalkAbout Computers. "It is an outcome of our core business philosophy of providing WalkAbout customers with the best value in the industry - attractively priced products with the features they need, the quality and reliability they expect, and the service and support they deserve."
WalkAbout has been successful in servicing markets that require fully rugged functionality for the past 13 years. The Hammerhead XRT is the rugged Tablet PC of choice in the EMS market and Utilities industry, where WalkAbout has achieved more than a 40 percent market share. Leveraging their expertise in rugged engineering and design, WalkAbout has developed the Hammerhead RT line to address the growing need in the market for a wireless Tablet PC that meets customers' required level of ruggedization at an affordable price. Durable and lightweight, the Hammerhead RT is ideal for mobile workers in Manufacturing, Field Service, Retail, Distribution and Government.
Both pen tablet and touch screen versions of the Hammerhead RT line are available with a 10.4" Transmissive XGA or SVGA display or WalkAbout's new All-Vis Indoor/Outdoor Transflective display, which provides superior viewing in both indoor and outdoor lighting conditions.
The Hammerhead RT800 features an 800 MHz Mobile Intel Pentium III Processor-M with enhanced Speedstep technology in a rugged magnesium housing with molded rubber bumpers for extra protection. The rugged tablet offers 256/512 MB RAM, 20/40 GB hard drive, Windows XP Tablet PC Edition, legacy dock compatibility and hot-swappable batteries for seamless operations and improved productivity. The Hammerhead RT933 includes upgraded features such as 933 MHz Mobile Intel Pentium III Processor-M with enhanced Speedstep technology, integrated Ethernet, internal radio options including GPS, CDMA and GPRS, as well as a molded shock absorbing WalkAbout carry case. Both models offer a Type III PCMCIA slot that accommodates up to two Type II PC or Cardbus cards and sealed doors that maintain the units' IP64 rating.