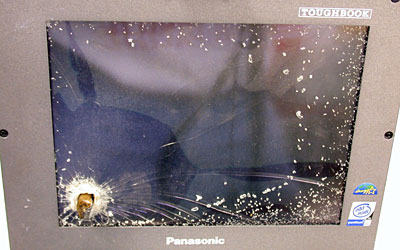 Panasonic's fully ruggedized Toughbook CF-29 notebook has been named Editor's Choice by Laptop Magazine.
Going head to head against the Itronix GoBook II (a made-in-Taiwan notebook also sold by Hewlett Packard as the nr3600) and Rugged Notebook's Rough Rider Jr. (also sold by Motorola as the ML 850), the CF-29 outscored the competition in every key test.
"We froze the notebooks, subjected them to a simulated rainstorm, baked them for an hour, and dropped them three feet onto a layer of plywood over concrete," wrote Laptop magazine tester Rich Malloy.
Praising the Panasonic for having the "fastest performance, incredible battery life, and unmatched durability," Malloy noted that "when all the dust settled ... (the Editor's Choice winner) clearly stood above all others."
Panasonic Computer Solutions Company president Rance Poehler was particularly impressed by the magazine's testing protocols which were, according to the editors, a "grueling gauntlet of durability trials designed to see whether these systems could meet U.S. supertough specifications."
Noting that a ruggedized Toughbook notebook recently stopped a round, Poehler said "I am glad that Laptop Magazine has provided laboratory confirmation for what our customers already know - Toughbooks are the most reliable and durable high-performance notebooks in the world.
"In addition to being the pre-eminent supplier of ruggedized computing solutions to the telecommunications, utility, insurance, professional field force, healthcare and transportation industries we are also the leading provider of rugged PCs to state and local law-enforcement agencies, and federal agencies," Poehler added.
"One of the key reasons for our maintaining our leadership position in this field year after year is that we design, engineer, utilize strict quality control methods, and manufacture all Toughbook models in our own factories.
"That is why Toughbooks are faster, more durable, have better battery life, and offer more wireless options and accessories. That is why we are able to produce an incredibly broad product line to better meet the specialized needs of our customers," Poheler said.
"HP neither designs, engineers, nor builds their rugged notebooks. These are Itronix notebooks in thin disguise, and are made in Taiwan and re-labeled 'Hewlett Packard' over here. At Panasonic, it has always been our firm belief that making our computers ourselves, with all the attention to detail that pride in craftsmanship inspires would reward our customers with the most durable and reliable product possible."
Poehler also noted the Panasonic's massive investments in people, factories, robotics, environmental and wireless testing chambers, quality-control processes, and a broad range of end-to-end service offerings ensure that the company will be in the ruggedized computer market for the duration.
"Companies buying their units from a third party Taiwanese-based manufacturer and putting their name on them have no real investment and can pull out of the market anytime," further comments Poehler.
The flagship of the Toughbook line, the CF-29 is Panasonic's fourth-generation fully ruggedized notebook designed to meet MilSpec STD-810F specifications, it features Intel Centrino-compliant system architecture powered by a 1.2Ghz Pentium M CPU, up to 1GB of upgradable SD-RAM, three shock-isolated, anti-glare coated and daylight-readable screen options, a end-user removable 40GB or 60GB shock-and-vibration resistant hard drive, and up to four simultaneous integrated wireless options.