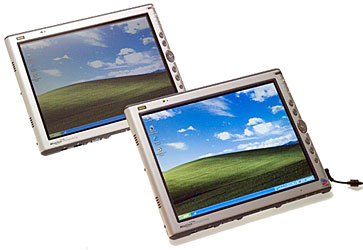 Motion Computing's View Anywhere display -- a unique tablet PC option for users who want an indoor-viewable screen that is equally suited for outdoor use -- is now available to complement the acclaimed wide-viewing angle capabilities of Motion's M1400 Tablet PC.
The combination of the M1400's wide-angle display and Motion's View Anywhere technology yields exceptional display clarity and visibility at all angles and in a broader range of lighting conditions. Motion's latest first-to-market announcement reinforces its display technology leadership and makes its most advanced tablet PC model an even more compelling choice for field sales and service professionals in a variety of markets.
The View Anywhere technology, developed in conjunction with White Electronic Designs Corporation, provides a 10-to-1 reduction in reflection and a 15 percent improvement in light pass-through efficiency, resulting in low power consumption and efficient heat dissipation. And because of a 225 percent increase in contrast ratio, users experience viewability at wider angles while walking, standing or sitting -- in virtually any low-light or bright-light environment, and everything in between.
"Motion's View Anywhere technology is an important innovation for tablet PCs," said David Altounian, Motion's chief product officer. "Customers with a need for ubiquitous viewing on a tablet PC can find it on the M1400 with View Anywhere."
Motion's 12.1-inch slate tablet PC has gained widespread acceptance because its dimensions, when viewed from the top, approximate those of a sheet of paper. The M1400's XGA TFT display provides an almost unlimited viewing angle (more than 160 degrees). Coupled with the ease of switching between portrait and landscape display modes, the M1400's wide-view screen enhances presentation sharing and real-time tablet PC collaboration.
"The Motion tablet PC with View Anywhere display is the ideal solution for real estate agents, home inspectors, appraisers and other real estate industry professionals who spend a significant portion of their day away from the office or out in the field," said Daniel Tealdi, president of Criterion Corp., a San Bruno, Calif.-based mobile solutions provider specializing in wireless enterprise application development for the real estate industry. "The tablet's natural mobility, combined with this versatile display, makes it the PC platform of choice for real estate professionals who need access to information virtually anywhere and at anytime."
The Motion View Anywhere display is a $299.99 option on the Motion M1400 Tablet PC.