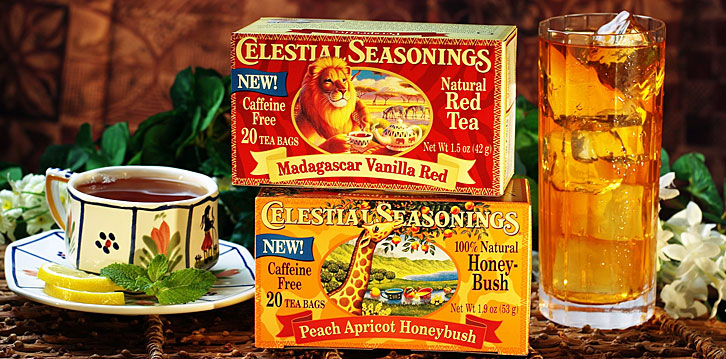 Celestial Seasonings introduced two unique and flavorful teas, Madagascar Vanilla Red and Peach Apricot Honeybush, both blended from plants native to the mountainous regions of South Africa. Red tea and honeybush tea are rich in flavor and heritage -- South Africans have used red tea for centuries as a nourishing and refreshing drink, and honeybush has long been enjoyed as a soothing tonic. Now a larger audience can discover their natural goodness. Teas made from the red bush and honeybush plants are refreshingly delicious, naturally caffeine-free, low in tannins and high in health-giving antioxidants.
Red tea, also called "red bush tea" or simply "rooibos" (which means "red bush" in Afrikaans), is made from the twigs and leaves of the rooibos shrub and has long been enjoyed for its delicious flavor and healthful properties. Honeybush tea is made from the honeybush's leaves and bright yellow flowers, which exude a pleasing, honey-like scent that gives the plant its name. Honeybush tea is naturally sweet and offers health benefits similar to red tea; it is low in tannins, high in antioxidants, and contains trace amounts of minerals.
"People are just beginning to learn about the healthful benefits and great taste of red and honeybush herb teas in this country," says Charlie Baden, Celestial Seasonings Blendmaster. "Our Madagascar Vanilla Red and Peach Apricot Honeybush teas are exotic blends with mellow flavors that appeal to a wide range of tea drinkers."
Celestial Seasonings new Madagascar Vanilla Red has the smooth, exotic flavor of rooibos blended with premium Madagascar vanilla bean. A touch of natural peach and apricot flavors accentuate the honeybush in Celestial Seasonings new Peach Apricot Honeybush for a luscious, mellow taste-perfect for any time of day.
Celestial Seasonings botanical buyers have been working with the South African farmers and other organizations to ensure that only environmentally friendly, sustainably cultivated herbs are used. Through collaboration with organizations such as the Herb Research Foundation and Agribusiness in Sustainable Natural African Plant Products (A-SNAPP), Celestial Seasonings helps to promote economic growth in rural African communities through socially and environmentally responsible production of high quality, healthful natural products.