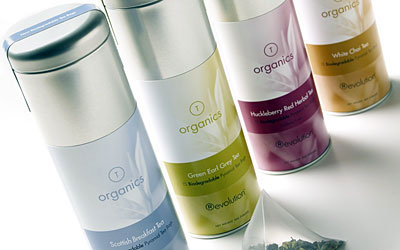 Revolution Tea is introducing a line of certified organic teas in biodegradable pyramid bags. Even the tin packaging is reusable and recyclable.
"We are delighted to be the first to introduce the 100% biodegradable pyramids bags with Revolution's first line of certified organic teas. The new bags are spun from a polylactate acid yarn which is fully biodegradable and performs in the same remarkable way as our Infuser and Teapot Infuser bags," said Larry DeAngelis.
The new line of premium full-leaf certified organic teas will be introduced in four characteristic flavors.
Scottish Breakfast Tea, a deeply satisfying tea, Organic Scottish Breakfast offers a natural approach to a traditional favorite. Made from a distinctive blend of three black teas -- Organic Assam, Organic China Keemun and Organic Nilgiri Dunsandale -- this full-bodied, robust flavor is perfect morning, noon, and night.
Green Earl Grey Tea, made from Organic Chinese Sencha -- this blend will forever change the way you perceive green tea. An exciting, original flavor, featuring notes of Italian Bergamot, Green Earl Grey is a hearty, refreshing pick-me-up with all the health benefits of green tea.
Caffeine-free Huckleberry Red Herbal Tea, mellow and naturally sweet -- this delightful tea blends organic honeybush, stevia, huckleberries and the delicate tang of orange peels with rooibos, a South African herb. Rooibos is caffeine-free and provides more antioxidants than green tea.
White Chai Tea, rich and wonderfully fragrant -- this exquisite blend combines White Bai Mu Dan Leaf with cinnamon, ginger and cardamom, all organically grown. White tea, whose silvery buds are the least processed of all teas, contains the highest amount of antioxidants.
The teas are packaged in a resealable and recyclable tin containing fifteen bags.
Revolution Tea has been revolutionizing the beverage industry and the way we drink tea since 1998. With its premium full-leaf teas and distinguishable packaging, this award-winning company produces only the finest tea experiences. Not only is Revolution Tea recognized by its T-Box Revolution single serving boxes, but it has earned accolades for its Infuser Bags which create the ultimate and convenient steeping process. Simply like no other bottled tea, all natural White-Ts are reshaping the beverage industry one leaf at a time.