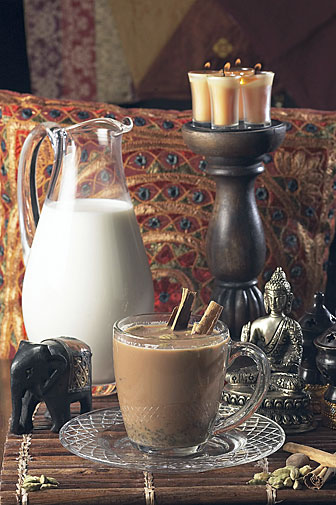 This Valentine's Day, Chai Latte is a drink that can help you feel romantic. In India, the spices found in Chai Lattes are widely believed to be aphrodisiacs. And because Chai Lattes are also made with calcium-rich milk, you are also helping your bones.
"Chai Lattes create a wonderful sense of well-being," explained Deep Sethi, owner of the Bollywood lounge Nirvana in Beverly Hills. "The spices in Chai have stimulating properties to enhance the body's natural warming abilities so you get sensuality."
Popularized in this country by coffee and teahouses, traditional Chai Lattes contain a rich black tea, milk, spices, and a sweetener. The stimulating tea, which has been consumed in India for centuries, is believed to work on two levels: mental and physical. The rich aroma of Chai Latte promotes well-being and helps set a romantic mood. Spices like cinnamon, cardamom, clove, ginger and pepper are believed to stimulate the senses, promote vitality, and help fight impotency.
Most supermarkets now carry an assortment of easy-to-make Chai Latte concentrates and mixes.
Tea is more than five thousand years old. Chai, tea in Hindi, is India's national drink, quickly becoming America's hottest import.
Chai Lattes are on the menu at specialty coffee shops, and there is a growing line of prepackaged consumer products in supermarkets nationwide. Many industry analysts predict that Chai Lattes will eventually surpass cappuccinos in popularity.
Chai Lattes are traditionally made with milk, the best natural source of calcium and an all-around nutritious food.
The California Milk Processor Board was established to increase milk consumption.