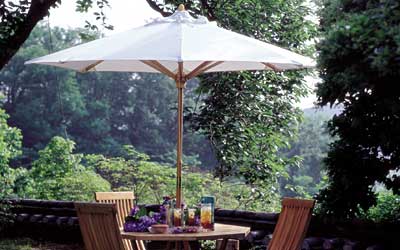 As the summer kicks into high gear, outdoor patio enthusiasts are running inside to get a break from the 90 degree plus temperatures. But keep cool at this weeks National Hardware Show in Chicago where fans of the great outdoors have something to cheer about that promises to be a real cool blast.
Summer Blast unveils the worlds first outdoor patio umbrella fan. Fitting under any traditional patio umbrella, the Summer Blast operates on 6 D cell batteries and will run for over 30 hours. Installation takes less than five minutes and can be completed with NO tools by merely inserting the batteries and then snapping the two piece patented assembly together under your patio umbrella for a cool summer blast.
Ron Cohen, president of Summer Blast said "Our family is outside all summer long, and during dinner it is always so sticky. I decided that a simple fan to move the air would help make patio dining and socializing more fun and comfortable for the whole family." In addition, the breeze from our Summer Blast Umbrella Fan will help keep bugs away. With a suggested retail of $40.00 at most retailers, the Summer Blast Umbrella Fan will make a terrific gift for any outdoor enthusiast.
In addition to cooling the family under the umbrella, Summer Blast also soothes away your stresses with the relaxing nature sounds of ocean waves, singing birds or chirping crickets. The adjustable 3 speeds on the fan combined with the nature sounds make the Summer Blast Umbrella Fan a necessary accessory for the true outdoor enthusiast.