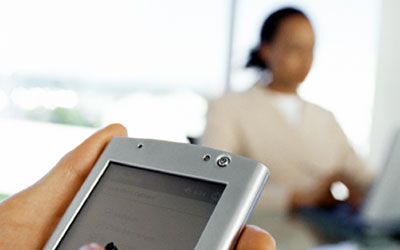 Mergic today announced the release of Mergic VPN 1.1, a virtual private network (VPN) client with support for Palm OS 5 handhelds. The VPN client uses the Point-to-Point Tunneling Protocol (PPTP) to allow handheld users with Internet access to securely connect to a private network, such as their home or corporate LAN. This allows other applications, such as network HotSync and e-mail clients, to connect to the computers they need to access.
A version of the Mergic VPN client is built-in to the palmOne Tungsten C but this release marks the first VPN client to provide general support of Palm OS 5 devices and connection types. This includes support for the palmOne's Tungsten T series handhelds, Treo 600 smartphones, and Sony CLIE handhelds with their respective WiFi (802.11b), Bluetooth, IR, cable and built-in mobile phone connections. The basic requirement is that the OS 5 device must include some way to connect to the Internet.
"We are committed to continuing to provide an easy to use, fast VPN client that works on a variety of Palm OS devices. Mergic VPN 1.1 raises the bar with a simpler set-up, additional ease of use features and significantly broader handheld compatibility," said Rob Seaman, Mergic's President.
Mergic VPN 1.1 also supports Palm OS 3.1 to 4.1 devices with newly added support for the Samsung SPH-i500 smartphone. Set-up of the Palm OS connectivity has been simplified for these pre-OS 5 devices by the addition of a New VPN Service dialog that automatically creates the VPN connectivity settings by using settings from an existing Internet network service.
Set-up for OS 5 devices is even simpler than for pre-OS 5 handhelds. No special connectivity setup is required. For most users the only configuration that's required is to enter their user name, password and the name or address of their VPN server.
Other than the extra options that are required to set up the connectivity on pre-OS 5 devices, the software looks and behaves the same on all Palm OS devices. There are several options for customizing the program along with support for various types of authentication and up to 128-bit encryption. VPN connections can be established manually by tapping a Sign In button or automatically by using an Auto Connect feature that allows user-selected applications to automatically connect to the VPN server as needed without requiring the user to launch the VPN client.
Mergic VPN 1.1 runs on handhelds with Palm OS 3.1 or greater and at least 320 KB (220 KB after installation) of available storage. A VPN server with PPTP support is required.