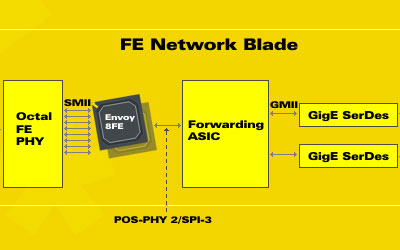 TranSwitch Corporation announced today that it has demonstrated a complete turnkey reference solution for Fast Ethernet routing and switching platforms utilizing TranSwitch's Envoy-8FE Octal Fast Ethernet Controller and the Intel IXP2400 network processor. This comprehensive reference package significantly reduces development time and resources required by system vendors for applications such as Layer 2/3 switches and routers for metro, access and enterprise networking.
"TranSwitch's Envoy product family provides high density Fast Ethernet media interface options which complement the performance and flexibility of the Intel IXP2400 network processor for a wide range of metro, edge and enterprise product designs", said Doug Davis, general manager, Intel Network Processor Division. "The combination of TranSwitch's Envoy-8FE device and the Intel IXP2400 network processor will help speed our customers' time-to-revenue with high performance Ethernet connectivity solutions."
The new TranSwitch reference design is built on the Intel IXDP2400 development platform, which houses the IXP2400 2.5 Gbps network processor, along with TranSwitch's Envoy-8FE device. This integrated approach allows customers to dramatically accelerate their time-to-market by providing a proven example reference point as a head-start to actual prototype platforms.
The full reference design for the actual Envoy-8FE media module is available to customers, free of charge, in the example Hardware Development Kit (HDK) included with the Intel IXA Software Developers Kit 3.1. The example HDK contains a complete reference schematic, bill-of-materials (BOM), application note with all configuration parameters, FPGA and CPLD software code, and the device drivers and technical documentation for the Envoy-8FE Fast Ethernet Controller.
"The Intel IXP2400 is the network processor of choice for many of our customers' high speed switching and routing applications", said Dr. Hoshang Mulla, Vice President of Marketing at TranSwitch. "We are delighted to be working with Intel to bring carrier-class Ethernet solutions to the marketplace."