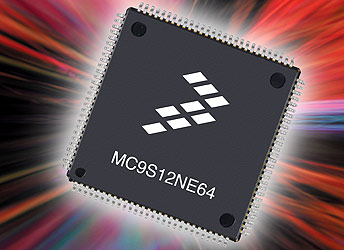 Freescale Semiconductor has introduced the industry's first complete, single-chip 10/100Mbps Ethernet device. The 16-bit MC9S12NE64 microcontroller replaces more complex multi-chip Ethernet offerings.
"Designers who choose the MC9S12NE64 can expect to reap the benefits of a single-chip Fast Ethernet (100Mbps) solution, increasing reliability and reducing the size of the Ethernet control footprint within a system," said Daniel Hoste, vice president and general manager of Freescale's 8/16-bit Products Division. "These benefits help make Ethernet connectivity an easy option for new applications and low-cost systems where it may not have been practical in the past."
"Freescale has propelled the industry forward significantly with the introduction of this device," said Analyst Fred Zieber of Pathfinder Research. "The combination of a single chip with a rich peripheral set and Fast Ethernet connectivity -- all at a new price point -- can potentially change the rules of game."
Ethernet is the leading networking technology for local area networks (LAN). It is used to connect embedded devices within a LAN or to the Internet. Today's embedded devices often perform monitoring and control functions, such as gathering data from sensors or controlling electric motors or switches. Using an Ethernet connection, these devices can now be controlled remotely or distribute data over a network.
Ethernet's established infrastructure, performance, interoperability, scalability and ease of deployment increasingly make it the networking standard of choice in industrial settings. Typical embedded Ethernet applications include industrial controls, security systems, building automation, lighting controls, power supply monitors, vending machines and point-of-sale terminals.
The MC9S12NE64 is the first in a Freescale series of 16-bit microcontrollers with embedded Ethernet connectivity. It provides a complete, cost-effective solution for industrial control applications and embedded systems that could benefit from network connectivity.
"The NE64's on-chip Ethernet was a key factor for EBTRON," said Len Damiano, vice president of sales and marketing for EBTRON, a manufacturer of sensors for HVAC and irrigation control. "Our Web-based, demand-controlled irrigation system uses a Web-enabled device to remotely program and monitor water valves or pumps. The MC9S12NE64 reads the sensors and calculates soil moisture and temperature, then determines the control action required based on this data and programmed input. In short, the system is smart enough to prevent watering soil that doesn't need it."
The MC9S12NE64 is based on Freescale's HCS12 central processing unit (CPU) platform. It offers everything needed for Ethernet connectivity -- a communications stack, flash memory, random access memory (RAM), a media access controller (MAC) and physical layer (PHY) transceiver -- in a single low-pin-count package.
Freescale Semiconductor (now part of NXP)designs and manufactures embedded semiconductors for the automotive, consumer, industrial, networking, and wireless markets.