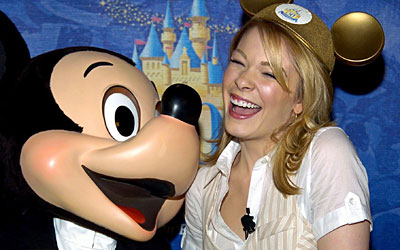 Grammy Award-winning country singing star LeAnn Rimes has recorded the official anthem song of the 50th anniversary of Disneyland.
Remember When will be featured as part of a fireworks spectacular presented throughout the 18-month anniversary celebration at Disneyland. Remember When will also be a highlight on the new CD The Official Album of Disneyland's 50th Anniversary, premiering nationwide on May 3 from Walt Disney Records.
"It's an honor to be able to sing the song for the 50th Anniversary of Disneyland," states Rimes. "I love Disneyland and I love the song."
Grammy-winning songwriter producer Richard Marx who composed and produced the song said: "As a parent of three sons, having taken them to Disneyland and seeing that sense of magical wonder in their eyes, you get that again -- it's just in a different way. So that's what I thought the song should be. It's handing down that sense of magical wonder from generation to generation."
Beginning May 5, 2005 the celebration will pay tribute to the guests who have contributed to the rich legacy of this national treasure over the past five decades. It will be the biggest celebration in the history of Disney theme parks.