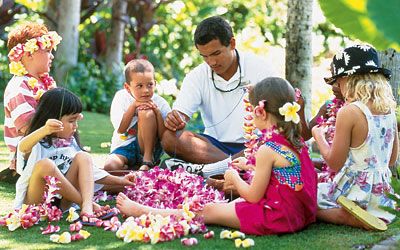 A Camp Hyatt counselor teaches kids to make Hawaiian leis as part of their indigenous experience at the Hyatt Regency Kauai Resort and Spa as part of the program that invites kids and families to explore, experience, create, and play. This summer's new activities range from surf lessons and reptile demonstrations to youth spa treatments and crab catching lessons.
"We're hearing more and more that kids are helping choose the family vacation," said Ann Lane, director of Camp Hyatt and Family Camp for Hyatt Hotels and Resorts. "Children enjoy our activities because they offer more than just the typical arts and crafts. They're interactive and tailored to each destination, so they learn without realizing it."
Camp Hyatt's activities help children ages 3-12 discover the wonders of each resort as they learn about flora (plant life), fauna (animals), culture (history) and geography (the land where you are) of the region.
Examples of the new Camp Hyatt activities at 17 participating Hyatt Resorts locations throughout the U.S. and Caribbean include:
The Hyatt Regency Huntington Beach Resort and Spa provides surfing and boogie-boarding lessons through a local surf school, Toes on the Nose. Campers can even make their very own surf boards. Children ages 8-12 can also enjoy Sophisti-Kids, the resort's pre-teen spa program, including such treatments as the Chocolate Kiss Hand and Foot Delight and the Lil' Mademoiselles Manicures. After a long day of sandcastle making and playing in the sun, campers enjoy the classic beach pastime of S'mores Roasting.
Young guests at the Hyatt Grand Champions Resort and Spa, in Indian Wells, California, learn about desert creatures with the resort's new 100-gallon Reptile Habitat featuring a bearded-dragon lizard. They also participate in new hands-on activities including Indian Sand Painting, Copper Sculpture and Ceremonial Mask making. In addition, the resort now features a new computer room and activity room.
The Eastern Shore is brought to life for kids at the Hyatt Regency Chesapeake Bay Golf Resort, Spa and Marina, in Cambridge, Maryland. Through the resort's new activities, campers learn how to catch crabs like a true shoreman, practice their aim like the legendary markswoman in the Annie Oakley Shoot-off, participate in the Maryland state game of jousting and paint the state flower, the Black-Eyed Susan.
Campers learn about Native American culture and the Southwest at the Hyatt Regency Scottsdale Resort at Gainey Ranch. Young guests will enjoy playing Native American games, making moccasins and learning about the indigenous Sarsaparilla, a medicinal root, as they make ice cream floats with it.
Known for its world-renowned Equestrian Center, the Hyatt Regency Grand Cypress Resort, in Orlando, Florida. now teaches kids about horses, including how to groom them, feed them and interact with them. Campers also enjoy a nature hike to the resort's lake to see where the bass fish lay their eggs and feed. In the evening, kids are invited to roast S'mores at the resort's outside firepit.
The Hyatt Regency Hill Country Resort and Spa, in San Antonio, Texas, offers new Field Day themed activities including a Bubble Gum Pie Eating Contest, Inner-tube Tag and Over-and-Under Relay Race.
Young travelers can also participate in the Camp Hyatt Passport, the program's frequent-stay program designed just for kids. Kids receive a passport to be stamped when visiting different Hyatt Resorts locations. After only a few stays, they will receive prizes such as a plush animal, compact disk case and a 35 mm camera. Camp Hyatt members will also receive a birthday card each year that entitles them to a free ice cream sundae at any Hyatt Resort location.