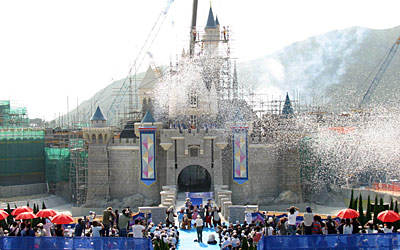 Hong Kong Disneyland today celebrated a major milestone in its construction by placing the top-most turret upon the highest tower of Sleeping Beauty Castle in a Topping Off ceremony.
Hundreds of guests including government officials, business and community leaders, and Cast Members -- the name for Disney employees -- gathered at the Hong Kong Disneyland construction site in Penny's Bay on Lantau Island for the first time since the Park's ground-breaking in January 2003. They were joined by beloved Disney characters Mickey Mouse, Minnie Mouse, Donald, Goofy, Chip and Dale; Hong Kong Disneyland spokesperson and entertainer Jacky Cheung; Walt Disney Parks and Resorts President Jay Rasulo; and Hong Kong Disneyland group Managing Director Don Robinson.
"This day marks an important step forward in a partnership with Hong Kong that continues to connect people across generations and cultures to the magic of Disneyland," said Rasulo. "As Walt Disney once said, it all started from a daddy with two daughters who wanted a place where they could have fun together. When it opens, the park will serve as an important gateway for bringing the magic of Disney to families across Asia."
Rasulo also spoke about the key ingredient that makes every Disney theme park so special: the Disney Difference, which Rasulo described as a combination of "storytelling, creativity and guest service to create the feeling among our guests that they've been transported to another world filled with magic and wonder."
The Topping Off ceremony showcased the construction of Sleeping Beauty Castle, the iconic landmark in Disneyland, the original park in Southern California that changed the way the world thinks about family vacations. Robinson said the new version of the classic Castle will be the centerpiece of Hong Kong Disneyland.
"Behind me rises our Castle, the most memorable icon of our Park," Robinson said. "The Castle emblem symbolizes the immersive world that guests enter inside every Disneyland around the world. Now, Hong Kong has its own Sleeping Beauty Castle, ready to take its place in the hearts and minds of millions."
"We also are extremely excited to partner with the people and government of Hong Kong to build this Disney family destination. Together we will help drive job creation, tourism and economic growth, while creating a magical journey for Hong Kong," Robinson added.
At the ceremony, Hong Kong Disneyland's spokesperson, Jacky Cheung, commented on the meaning of the Park's Castle to the people of Hong Kong. "I still remember seeing the Castle when I first visited Disneyland. Having our own Castle here will bring those same memories to the people of Hong Kong. I can't wait to share that happy, magical feeling with my daughter."
A Topping Off ceremony is traditionally celebrated when the last structural element is placed on a building, which is a landmark point in the construction process. As Sleeping Beauty Castle was topped with its finial piece, a burst of colorful confetti, fireworks, music and Disney characters, including Mickey Mouse and friends, delighted the crowd.
The external structures of many of the attractions and buildings are becoming visible, including Space Mountain, an attraction inside Tomorrowland that will take guests on a whirlwind adventure through space; Plaza Inn, a Chinese restaurant inside Main Street, USA; and Orbitron, another exciting attraction in Tomorrowland. When Hong Kong Disneyland opens, there will be more than 250,000 annual flowering plants and 15,000 canopy trees.
5000 workers on site represent a global and experienced team that has worked on some of the largest construction projects in Hong Kong as well as from Walt Disney Imagineering -- the design and engineering arm of Walt Disney Parks and Resorts. Sculptors, landscapers, painters and other artisans also are working on site.
In addition to construction work, 500 people will be hired to become the first-generation of Hong Kong Disneyland Cast Members. Preparations also are being made on food selections, merchandise, and various forms of entertainment that will be available to guests when the park officially opens its gates in late 2005 or early 2006.