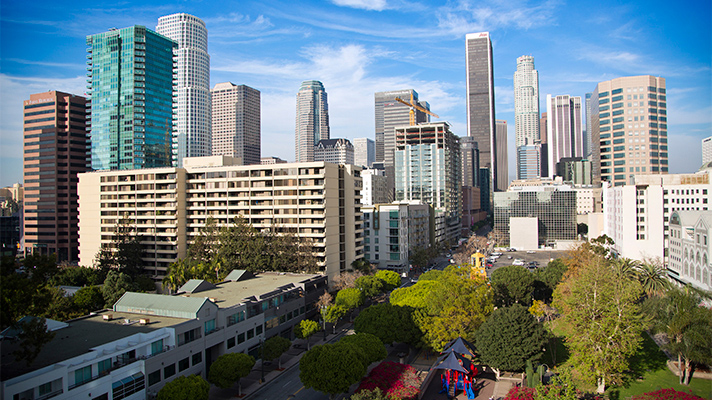 Los Angeles Hotel Updates
Cambria El Segundo LAX (Beach Cities) – Choice Hotels International's upscale Cambria badge will enter the Los Angeles area with the opening of Cambria El Segundo LAX. Slated to open May 2017, the hotel will be developed by Fillmore Hospitality and feature 152 rooms and a bistro called Social Circle. The hotel will be located about two miles south of Los Angeles International Airport. cambriahotelsandsuites.com
Dream Hollywood Hotel (Hollywood) – The West Coast's first Dream Hotel will debut in the heart of Hollywood on Selma and Cahuenga in April 2017. Designed by the award winning Rockwell Group, the 10-story boutique Dream Hollywood Hotel will feature 179 hyper-chic rooms, unique-to-market dining experiences and an 11,000-square-foot rooftop lounge area. dreamhotels.com
The Everly (Hollywood) – Slated to open May 2017, The Everly will feature 216 rooms, relaxed communal spaces and effortlessly cool design. With its light-filled interiors, thoughtfully designed for comfort and ease, The Everly is a true celebration of its Beachwood Canyon neighborhood and the laidback California lifestyle. The hotel is steps away from the iconic intersection of Hollywood and Vine with unbeatable panoramic views of the nearby Hollywood sign, Downtown Los Angeles skyline and the Pacific Coast. everlyhotelhollywood.com
Freehand Hotel and Hostel (Downtown) – Sydell Group will introduce the Freehand Hotel and Hostel in April 2017 after transforming the 1924 Commercial Exchange Building in Downtown L.A.'s Historic Core. The 13-story building will boast 226 rooms, ranging from traditional accommodations to high-design hostels (or "poshtels") with up to eight beds. The hotel will also feature a lobby living room, retail, restaurant and bar offerings in addition to a rooftop pool and lounge. freehandhotels.com
Hotel Figueroa (Downtown) – Hotel Figueroa will reopen in late April 2017 following a renovation that will transform its Moroccan décor to a new contemporary aesthetic with a touch of Spanish flare. Hotel Figueroa will offer expanded bathrooms, 57 new suites, a second restaurant, a fourth bar and a garden on the roof. New windows have been installed in rooms to help block out the noise from the Figueroa. hotelfigueroa.com
Hotel Indigo Downtown Los Angeles (Downtown) – InterContinental Hotels Group will debut Hotel Indigo Downtown Los Angeles, a hip 350-room hotel in April 2017. The 18-story Hotel Indigo will be the flagship hotel at Metropolis, a $1 billion mixed-use development, which will feature three residential towers, curated retail experience and a rooftop bar. The property will sit at the heart of Downtown L.A., linking the Financial District to L.A. LIVE. Design for the hotel will be inspired by its surrounding neighborhood and will focus on prominent narratives from Downtown's past including Fiesta De Las Flores, the glamorous pre-Hollywood nightlife scene and the underground speakeasies of the roaring twenties. ihg.com/hotelindigo
InterContinental Los Angeles Downtown (Downtown) – InterContinental Los Angeles Downtown will be part of the tallest U.S. building west of Chicago when the Wilshire Grand Center opens in July 2017. The hotel will feature 889 rooms, 110 suites and one presidential suite, including a "sky lobby" on the 70th floor. There will be almost 100,000 sq. ft. of meetings, conventions and event space. Wilshire Grand Center is a $1.1 billion project, which is being developed by Korean Air and Hanjin Group, and will also include 400,000 square feet of offices and 45,000 square feet of retail space. When completed, Wilshire Grand Center will be about 80 feet taller than the U.S. Bank Tower and the hotel will be the largest InterContinental in the Americas. ihg.com
La Peer (West Hollywood) – Opening in August 2017, La Peer Hotel will feature 105 guest rooms and suites, a rooftop event space, poolside fitness center and more than 8,000 square feet of indoor and outdoor dining and lounge spaces. In addition, the property's pool – while in the center of the bustling city – is an escape in and of itself accented by lush landscaping and handcrafted lanterns hanging from above that set the tone for an urban retreat. lapeerhotel.com
Nobu Ryokan Malibu (Beach Cities) – Celebrity chef Nobu Matsuhisa is taking over the old Casa Malibu and repurposing it as a ryokan, or traditional Japanese inn. The beachfront property, which is owned by tech magnate Larry Ellison, will have 18 rooms when it opens in June 2017. nobuhotels.com
Nomad Hotel (Downtown) – Sydell Group, which opened Koreatown's The LINE Hotel in 2014, will open the Los Angeles outpost of New York's NoMad Hotel in November 2017. The NoMad will be redeveloped out of Downtown's Giannini Place, which was built in 1923 as the headquarters for Bank of Italy (which became Bank of America). The 12-story hotel will have about 250 rooms as well as a rooftop pool. Once the property opens, L.A. will be the first city where three Sydell Group brands are represented. sydellgroup.com/nomad/los-angeles/hotel
Proper Hotels (Downtown) – Proper Hotels, the new brand headed by former Viceroy Hotels chief Brad Korzen, is slated to enter Los Angeles with a Downtown L.A. property located at the site of the former Case Hotel. The 13-story property, which was built in 1924, will have 145 rooms and has plans to open in 2018. properhotel.com/hotels/downtown-la
Sheraton Gateway Los Angeles (LAX) – The hotel completed its second phase of multi-million dollar renovation with sophisticated upgrades to their 802 guestrooms and suites as well as the hotel lobby area and Sheraton Club. In addition, Sheraton Gateway Los Angeles Hotel invested $3.5 million dollars to enhance its 38 versatile meeting and function rooms totaling in 50,000 square-feet of distinctive event space. sheratonlax.com
Waldorf Astoria (Beverly Hills) – The Los Angeles area's first hotel under Hilton Worldwide's Waldorf Astoria luxury brand will open on the triangular corner next to the Beverly Hilton. The newly-built property, with Streamline Moderne design influences, will be 12 stories tall and will have 170 rooms. Completion is planned for June 2017. waldorfastoriabeverlyhills.com
Los Angeles Air Travel Updates
Southwest – On December 4, 2016, the airline launched non-stop routes from Cancun to Los Angeles, Los Cabos to Los Angeles and Puerto Vallarta to Los Angeles.
Sichuan Airlines – On December 6, 2016, the airline launched a new service from Chengdu via Jinan to Los Angeles, operating two times a week.
Qantas – From December 13, 2016 through January 24, 2017, the airline launched new direct service from Sydney to Los Angeles on Fridays and Sundays.
Alaska Airlines – On January 5, 2017, the airline launched non-stop, daily service from Havana to Los Angeles.
Hainan Airlines – On March 15, 2017, the airline will launch non-stop service from Chengdu to Los Angeles, operating twice a week. On March 21, 2017, the airline will also launch non-stop service from Chongqing to Los Angeles.
LOT Polish – On April 3, 2017, the airline will launch non-stop service from Warsaw to Los Angeles, operating twice a week.
Virgin Australia – On April 4, 2017, the airline will launch non-stop service from Melbourne to Los Angeles five times a week.
United Airlines – On April 5, 2017, the airline will launch non-stop service from London, Heathrow to Los Angeles.
Austrian Airlines – A new, seasonal non-stop route from Vienna to Los Angeles will be launched on April 10, 2017.
airberlin – Starting on May until October 2017, the airline will launch Airbus 330 service from Berlin to Los Angeles three times a week.
Midfield Satellite Concourse – Designed as an extension of Tom Bradley International Terminal (TBIT), the new $1.6-billion, 750,000-square-foot Midfield Satellite Concourse will feature 12 boarding gates, L.A.-centric dining and shopping options, airline lounges and other guest services and amenities. The design will complement the architecture of TBIT and feature a roof emulating an ocean wave prior to breaking on the shore. It is also poised to become one of the "smartest" concourses with automated biometric boarding gates and flight information display scanners allowing passengers to receive personalized maps on their boarding passes. The MSC will be connected by a 1,000-foot-long underground tunnel and is slated to open by 2020. laxishappening.com
Terminal 4 Connecter – This $115 million project launched in October 2016 and consists of the design and construction of a multi-use, multi-level facility providing a secure connection between Tom Bradley International Terminal (TBIT) to Terminal 4. Connecting the two terminals will allow passengers easier access to their destination for those needing to reach a connecting flight, with the added convenience of not having to recheck their baggage.
New Live Musical Arts at LAX – Travelers will be treated to a variety of live music, dance and theatrical performances and special events at Los Angeles International Airport (LAX) throughout the year. The program will bring in about 18 performances to celebrate the local culture and talent of Los Angeles and the region.
Los Angeles Arts and Culture Updates
The 14th Factory (Downtown) – Opening March 2017, The 14th Factory, will transform an empty industrial warehouse near Chinatown into a mythic universe through the creation of a monumental, multisensory and cinematographic installation environment - one of the biggest independent art projects in the world in 2017. The vision of The 14th Factory is to create a new, independent paradigm for socially-engaged art, a kind of guerilla action where art occupies and re-energizes underutilized or even derelict urban spaces and gifts them back to the in the form of a transformative experience. the14thfactory.com

Academy Museum (Mid-City) – The Academy of Motion Picture Arts and Sciences is building the world's leading movie museum in the heart of Los Angeles. Designed by Pritzker Prize-winning architect Renzo Piano, the six story Academy Museum will contain state-of-the-art galleries, exhibition spaces, movie theaters, educational areas, and special event spaces. The museum is planned to open in 2018. oscars.org/museum

Ahmanson Theatre (Downtown) – Think of Into the Woods as the ultimate fairytale mashup. Though many people know it from the 2014 film featuring Anna Kendrick, James Corden, Emily Blunt and Meryl Streep, it is also a stage musical. Stephen Sondheim and James Lapine's version of the show dances into the Ahmanson Theatre on April 4 to May 14. The story puts a sometimes dark, but deliciously catchy and rhyming spin on Cinderella, Rapunzel, Little Red Riding Hood as well as Jack and the Beanstalk, among other fairytales, as princesses, princes, a baker and his wife must deal with a witch's curse. centertheatregroup.org

Fashion Institute of Design & Merchandising, Los Angeles (Downtown) – FIDM Museum's annual exhibition has become a tradition for movie lovers. This year, the museum celebrates the exhibition's 25th year of showcasing excellence in film costume design. Visitors can explore the 'Academy Award Nominated Costume Designs' from movies of 2016. The exhibit is open from February 7 to April 2017; free to the public. fidmmuseum.org

Institute of Contemporary Art, Los Angeles (Downtown) – The Institute of Contemporary Art, Los Angeles, or formerly known as the Santa Monica Museum of Art, will be getting a new home in Downtown's Arts District in fall 2017. The new site will be in a 12,700-square-foot former garment manufacturing facility. It will include 7,000 square feet of exhibition space; almost 2,000 square feet larger than the organization's previous home at Bergamot Station in Santa Monica. This is the only kunsthalle, non-collecting museum, in Southern California. The museum presents exhibitions and programs that reveal the vibrant, untold stories and pivotal moments in the history of contemporary art and culture. theicala.org

Japanese American National Museum (Downtown) – Pioneering actor and passionate civil rights activist George Takei has donated his personal collection, which represents the many facets of his life and career, to the Japanese American National Museum. The collection will serve as the foundation of a new exhibition that will open at the museum from March 12 to August 20, titled New Frontiers: The Many Worlds of George Takei. janm.org

Los Angeles County Museum of Art (Mid-City) – Two upcoming exhibits at LACMA include,
Los Angeles to New York: The Dwan Gallery 1959–1971 opening March 19 to September 10 and presents the storied history of the Dwan Gallery, one of the most important galleries of the postwar period in the U.S., and the dealer and patron Virginia Dwan. Founded by Dwan in a storefront in Westwood in 1959, the Dwan Gallery was a leading avant-garde space during the 1960s, presenting groundbreaking exhibitions by Franz Kline, Philip Guston, Ad Reinhardt and more. Another exciting exhibit is Playing with Fire: Paintings by Carlos Almaraz, which is the first major retrospective of one of the most influential Los Angeles artists of the 1970s and 1980s. Arguably the first of the many Chicano artists whose cultural, and political motivations catalyzed the Chicano art movement in the 1970s, Almaraz began his career with political works for the farm workers' causa and co-founded the important artist collective Los Four. This exhibit will be on display from August 6 to December 3. lacma.org

LA Opera (Downtown) – Blackmail, political intrigue, romance and revenge - Tosca has it all. A favorite of every opera company around the world, it lands on the stage of the Dorothy Chandler Pavilion for seven performances on April 22 to May 13. L.A. Opera Music Director James Conlon will conduct Giacomo Puccini's three-act work. The opera follows the titular singer and her lover, who must contend with the cruel and lustful police chief Scarpia. Set during the Napoleonic Wars, the show is both an epic political thriller and a tragic romance. Soprano Sondra Radvanovsky stars as Tosca. laopera.org

Los Angeles Philharmonic (Downtown) – Iceland, Iceland Baby: The Los Angeles Philharmonic has been ever-daring under Music Director Gustavo Dudamel, and the tradition continues with the Reykjavik Festival. Running April 1-17, the series at the Walt Disney Concert Hall will feature concerts with composers such as Daníel Bjarnason and Hauker Tómasson. The Icelandic rock group Sigur Rós, which in the past performed at the Dorothy Chandler Pavilion, is also in the mix. The closing show will feature a performance by Jóhann Jóhannson, the composer of films including Sicario and Arrival. laphil.com

The Lucas Museum of Narrative Art (Downtown) – Los Angeles will welcome an exciting new museum from George Lucas' personal collection of art, which consists of about 10,000 paintings and illustrations including works by Rockwell, N.C. Wyeth and R. Crumb, along with Hollywood memorabilia from films such as "Star Wars" and "The Ten Commandments." The planned 275,000-square-foot, $1-billion museum will be located in Downtown's Exposition Park and targeted to open by 2021. lucasmuseum.org

The Main Museum (Downtown) – The Main Museum of Los Angeles Art is a new institution focused on L.A. art and artists. With a residency program at its center rather than a collection, The Main situates artists prominently and supports their continued engagement within the city's evolving landscape. Once complete, The Main will unfold across three historic buildings in Downtown Los Angeles - the Farmers & Merchants Bank, the Hellman Building, and the Bankhouse Garage. It will include a variety of exhibition galleries, studio spaces for an artists' residency program, a rooftop sculpture garden, amphitheater, a café and a restaurant. Opened in February 2017. themainmuseum.org

Marciano Art Foundation (Mid-City) – Set to open in May 25, the contemporary art museum from Guess co-founders Paul and Maurice Marciano will show painting, sculpture and photography as well as installation, performance and multimedia works in a renovated former Scottish Rite Masonic Temple on Wilshire Boulevard. Many of the pieces in the more than 1,500 item archive are from artists such as, Andy Warhol, Willem de Kooning and Cindy Sherman, however younger artists will make appearances as well. marcianoartfoundation.org

Music Center (Downtown) – Tennessee Williams' A Streetcar Named Desire is an American treasure; it won the Pulitzer Prize for Drama in 1948 and was immortalized on screen in a 1951 film starring Vivien Leigh and Marlon Brando. Now Scotland's national ballet company is reinterpreting the work. The Scottish Ballet pirouettes into the Dorothy Chandler Pavilion for three performances on May 19-21, with choreography by Annabelle Lopez Ochoa. The dance of lust and pride will have a jazz-accented score from Peter Salem. musiccenter.org

Pacific Standard Time: LA/LA (Citywide) – Pacific Standard Time: LA/LA is a far-reaching and ambitious exploration of Latin American and Latino art in dialogue with Los Angeles and will happen September 2017 to January 2018. Led by the Getty, Pacific Standard Time: LA/LA is the latest collaborative effort from arts institutions across Southern California. Through a series of thematically linked exhibitions, Pacific Standard Time: LA/LA will present a wide variety of important works of art, much of them new to Southern California audiences. While the majority of exhibitions will have an emphasis on modern and contemporary art, there also will be crucial exhibitions about the ancient world and the pre-modern era. With topics such as luxury objects in the pre-Columbian Americas, 20th-century Afro-Brazilian art, alternative spaces in Mexico City, and boundary-crossing practices of Latino artists, exhibitions will range from monographic studies of individual artists to broad surveys that cut across numerous countries. pacificstandardtime.org

The Ronald Reagan Presidential Library and Museum (Ventura County) – Titanic at the Reagan Library is a fascinating look at Titanic, combining real artifacts with the real stories of the people onboard the ill-fated ship. This new exhibit, opening May 27 to January 17, 2018 tells the story of the unsinkable ship in a way no museum has done before. Artifacts from passengers, dispersed over time, will be reunited in this exhibit for the first time in over 100 years. reaganfoundation.org

Skirball Cultural Center (Westside) – Paul Simon: Words & Music will open April 27 to September 10, making its only West Coast stop at the Skirball. This traveling exhibition curated by the Rock and Roll Hall of Fame and Museum, illustrates how the legendary artist's music has reflected social and cultural ideals. Developed based on exclusive interviews with the artist, the show will walk visitors through Paul Simon's life and music and illuminate his creative process. On view will be instruments, records, sheet music, handwritten lyrics, photography, costumes, and stage maquettes, as well as listening stations and performance footage spanning Simon's six-decade career. Exclusively for the Los Angeles presentation, Paul Simon: Words & Music will include additional artifacts from Simon's private archive and a newly created music lab developed by the Skirball in cooperation with Roland Corporation. skirball.org

Wende Museum & Archives of the Cold War (Culver City) – The Wende Museum of the Cold War preserves art, culture, and history from Soviet Bloc countries during the Cold War to inspire a broad understanding of the period and explore its enduring legacy. The museum promotes rigorous scholarship and stimulates general interest through its experimental exhibitions, as well as through lectures, symposia, and publications. In early 2017, The Wende Museum will move to its new home at the former Culver City Armory, tripling its exhibition galleries and providing more effective access to its massive collection of artwork, artifacts, archives, films, and personal histories. The Museum's installation of the longest stretch of the original Berlin Wall outside of Germany is on view in front of 5900 Wilshire Boulevard. wendemuseum.org
Los Angeles Attraction Updates
Aquarium of the Pacific (Long Beach) – Discover the dazzling diversity of frogs and their amphibian relatives at the Aquarium of the Pacific during the new exhibition, FROGS: Dazzling and Disappearing, opening May 26 to March 31, 2018. More than two-dozen animals in thematic displays, educational graphics, and interactive exhibits will highlight the beauty of and threats to these remarkable animals. The exhibit will trace the history of amphibians, their life cycles, the different environments they live in from deserts to rainforests, the diversity of species, and their surprisingly uncertain future. aquariumofpacific.org

Bikes and Hikes LA (Citywide) – The self-guided bike tour is a new offering from Bikes and Hikes LA, allowing visitors to explore the neighborhoods of Hollywood, Beverly Hills and West Hollywood on their own time, at their own pace. This tour takes visitors where tour buses can't. The tour features a GPS enabled device attached to the bike that acts as a virtual tour guide pointing out highlights along a pre-set itinerary. Tours are typically 3 hours long, covering 10 miles. bikesandhikesla.com

Exotics Car Racing (Fontana) – Guests will enjoy trackside views from the newly designed 10,000 sq. foot facility overlooking the exclusive 1.2-mile custom designed race course, and covered paddock area of spectacular supercars. The new facility will feature an air-conditioned space with sporty high-tech interior design. Flexible moving walls have been incorporated to configure a Corporate and VIP room from a private intimate gathering to a large scale corporate event. Men's and women's locker rooms will accommodate Exotics Car Racing Series guests to suit up for an awesome driving experience complete with a professional driving suit. exoticsracing.com

Hollywood Bowl (Hollywood) – The Hollywood Bowl's 2017 season begins on June 17 featuring the Moody Blues. Other big acts performing this year include Tony Bennett joining the Los Angeles Philharmonic, a complete live-to-picture performance of the score to "Raiders of the Lost Ark" and a conducting performance by screen composer John Williams. Other acts include Kool & the Gang, Morris Day & The Time, Solange, Blondie and the Village People. The annual Fourth of July celebration will feature Grammy winners Pentatonix. hollywoodbowl.com

OUE Skyspace LA (Downtown) – California's tallest open-air observation deck and the premiere destination for panoramic, 360-degree views of Los Angeles opened on June 25, 2016. At its height, Los Angeles residents and visitors are offered a transformative view of its culture, community and people. Visitors to Skyspace LA are guided through a multi-dimensional, interactive experience, featuring unobstructed views, dynamic design and surprise thrills. One of the thrills includes a fully enclosed glass slide that is affixed to the side of the building, 1,000 feet above the street from the 70th to 69th floor. oue-skyspace.com

Warner Bros. Studio Tour (Hollywood) – New in December 2016 is a reimagined exhibit offering an up-close look at authentic props and costumes from Fantastic Beasts and Where to Find Them and the beloved Harry Potter films. Highlights of the Fantastic Beasts experience include costumes worn by actors in the movie and Newt's case of creatures. Tour guests will be able to see the detailed costumes of Lord Voldemort, from a young Tom Riddle to his rise as the Dark Lord. Guests will also have the opportunity to be sorted into one of the four Hogwarts houses by the magical Sorting Hat. This interactive experience will take place in front of a life like image of the Great Hall, which will include costumes of iconic Hogwarts professors.wbstudiotour.com

Universal CityWalk (Hollywood) – As part of if its bold revitalization, CityWalk now elevates the movie-going experience to new heights as the 18-screen and IMAX AMC Theatre updates with the most technologically advanced sight and sound achievements. A complete remodel of the split level structure includes the installation of deluxe recliner seats in 18 theatres - the equivalent of those found in Hollywood screening rooms - making every seat, the best seat in the house.
universalstudioshollywood.com
Los Angeles Anniversary Updates
Grand Central Market (Downtown) – Downtown Los Angeles's thriving foodie hub is celebrating its centennial anniversary. The Market opened in 1917 and has been in continuous operation since. A hundred years ago, Broadway was the principal commercial and entertainment corridor of downtown Los Angeles. Bunker Hill, to the west, was covered with stately Victorian mansions, and the area's stylish residents rode down on the (now closed) Angels Flight to shop for groceries in the Market's open-air arcade. The Market has always reflected the changing population of downtown – in the 1920s the ninety-plus vendors included multiple green grocers, fishmongers, Jewish delis, and butchers, as well as stalls for dry goods, baked goods, flowers, coffee, cheese, notions-and even one vendor who sold nothing but eggs. DTLA has been evolving ever since, and the Market has continued to evolve with it. Today's Market has over 40 food stalls and contains vendors who represent L.A.'s diverse community. grandcentralmarket.com

Griffith Park (Los Feliz) – Griffith Park, one of Los Angeles's most iconic parks turned 120-years-old on December 16, 2016. This legendary park is over 4,210 acres and home to some of L.A.'s treasures such as the Greek Theatre, the Hollywood Sign, the Griffith Observatory and much more. The park is named for its former owner, Colonel Griffith J. Griffith who bequeathed the land as a Christmas gift to the people of Los Angeles to be used as parkland. Today's Griffith Park offers numerous family attractions, an assortment of educational and cultural institutions, and miles of hiking and horseback riding trails. laparks.org/griffithpark

San Antonio Winery (Downtown) – Recently nominated for American Winery of the Year by Wine Enthusiast, San Antonio Winery is the largest and longest-producing winery in Los Angeles with 100 years of winemaking under its belt, making it an essential component of the city's cultural and historical landscape. Still at its original location on Lamar Street in Lincoln Heights, the winery is the last vestige of the rich winemaking tradition of greater L.A. Four generations of family contribute to the winery's success. Its vineyards are located in Paso Robles, Monterey, and Napa Valley, and it is the most awarded winery in Southern California. sanantoniowinery.com
Los Angeles Restaurant Updates
Baohaus (Downtown) – In the shuttered Pok Pok Phat Thai space, Eddie Huang brought his NYC Taiwanese-Chinese concept, Baohaus, to Far East Plaza in Downtown L.A.'s Chinatown. The menu is simple with only four types of bao (pork, chicken, fish, and tofu), plus taro root fries. baohausnyc.com

Da Kikokiko (Beach Cities) – From Top Chef alum, Brooke Williamson and husband Nick Roberts' is their newest spot in the South Bay, joining their other popular neighborhood spots (Hudson House, Playa Provisions and The Tripel). Situated in the new Runway Playa Vista mixed-use complex, "Da Kikokiko" means "the spot" in Hawaiian. This spot is a love-letter to the street food they love in the islands: poke, shaved ice and musubi. dakikokiko.com

Destroyer (Culver City) – Jordan Kahn, from Red Medicine, which closed in 2014 opened up a neo-coffee shop featuring vegetable-centric plates. Destroyer was created as a collective resolution to bring about social change in the community. This restaurant will use the neighborhood café as a platform to bring various artists and creatives together. destroyer.la

Eggslut (Venice) – As its second location in Los Angeles, Eggslut has opened in Venice near the Venice Beach Boardwalk sign. From Chef Alvin Cailan, Eggslut has been expanding from the original Grand Central Market location to Las Vegas, Venice and soon to open, Glendale locations. eggslut.com

Erven (Santa Monica) – Le Cordon Bleu-trained Chef Nick Erven opened this minimalist Santa Monica restaurant after leaving Fundamental LA to create a plant-based new American menu. The restaurant offers lunch service as a sit down casual chef driven experience, coupled with a grab & go component. ervenrestaurant.com

Georgie and the Garden Bar (Beverly Hills) – Renowned NYC chef and restauranteur Geoffrey Zakarian is welcoming guests to his new restaurant at Montage Beverly Hills, which replaced Scarpetta. The restaurant has been redesigned to look like a private garden featuring sage greens, caramel velvets and rich blues with hanging planters and fig trees on the inside and spills into the redone patio. The menu features contemporary American fare utilizing ultra-seasonal ingredients from local forages and farms. georgierestaurant.com

Here's Looking at You (Koreatown) – This is Koreatown's newest dinner option from co-owners Lien Ta and Chef Jonathan Whitener. The fusion-focused menu is based around "SoCal food," and features a blend of flavors from Vietnamese, Mexican and modern American. The restaurant is 1,000 square feet and can hold roughly 50 seats. hereslookingatyoula.com

Kismet (Los Feliz) – A collaboration between Sara Kramer and Sarah Hymanson (of Madcapra fame, and formerly New York City's Glasserie) along with the Jon & Vinny team comes Kismet. The menu offers a vegetable-heavy Middle Eastern menu with more than a little Israeli influence and plates are meant to be eaten family style. kismetlosangeles.com

Laduree (Westside) – Laduree continues its American dream with the opening of its first West Coast location at The Grove. Located adjacent to The Park with an outdoor dining patio, this two-story boutique and restaurant creates a chic and whimsical Parisian paradise in the heart of Los Angeles. Laduree at The Grove offers its famed macarons and freshly made pastries as well as a full breakfast, lunch and dinner menu. laduree.fr/en

Lost at Sea (Pasadena) – A seafood restaurant in Old Pasadena started by two locals: Tim Carey from Arcadia and Santos Uy from La Canada. The restaurant features cuisine heavily influenced by Southern California ingredients and cultures, with a keen focus on French technique. The wines are small production, and naturally produced by artisans from all over the globe. They also carry a selection of local craft beers. lostatseapas.com

Manuela (Downtown) – Located at the heart of the restored Globe Mills complex occupied by Hauser Wirth & Schimmel, Manuela provides diners with a convivial, distinct experience where art, community, sustainability and food converge. Channeling his Texas upbringing, Chef Whitsell uses artisanal techniques of in-house smoking, fermenting, preserving and pickling with homegrown ingredients. Offering seasonal dishes, the menu features a broad range of vegetables, grains, seafood and meats, sourced from local farms and Manuela's onsite herb garden. manuela-la.com

Mr. Holmes Bakehouse (Highland Park) – This sparkling and uber-hip Highland Park bakery, a San Francisco transplant, is gleaming in all-white tiles and pink neon 'I Got Baked in Los Angeles' signs, with a glass counter full of sweet and savory treats. Most popular are the cruffins, a croissant-muffin hybrid that draws morning lines (and tends to sell out early), plus flavored custard-filled donuts, caramel-drenched monkey bread and more. mrholmesbakehouse.com

P.Y.T. (Downtown) – Taking a cue from Los Angeles's most pervasive new trend, Josef Centeno opened P.Y.T., a vegetable restaurant, in half of Ledlow's current space. The menu features leafy greens and lots of vegetables as a base for most of the menu. Breads, fruit dairy and meat are not off the menu. pytlosangeles.com

Shibumi (Downtown) – An intimate 40 seat kappo-style restaurant and bar located in the heart of Downtown L.A. Guests are invited to enjoy a unique and rare selection of beverages paired with seasonal offerings. Rare delicacies mingle with the familiar, allowing guests entry into the world of Shibumi, where traditional technique is applied to local ingredients and LA flavors. shibumidtla.com

Terra Cotta (Koreatown) – Terra Cotta is the newest restaurant venture from 6th Avenue restaurant group. The menu draws inspiration on a global scale (incorporating not only Korean elements, but also Japanese, Latin American, and other regional influences)-a direction representative of the melting pot that is Los Angeles. terracottala.com

The Huntington Library (Pasadena) – Border Grill's Susan Feniger and Mary Sue Milliken with Blue Window's Kajsa Alger partners with The Huntington with support from Bon Appetit Management Co. to offer culinary options from both Border Grill and Blue Window, in addition to new menus, cooking classes, series of dinners with specials guests, and catering at the Huntington Library. huntington.org

Tinfoil Liquor & Grocery (Highland Park) – Jeremy Fall (of Genesis and Nighthawk) takes over the glorious neon-signed "Coldest Beer in Town" store in Highland Park with a new concept called Tinfoil Liquor & Grocery. On top of curated spirits, local craft beers, and wines, Fall is partnering with Alvin Cailan's Unit 120 Group to put together a hidden sandwich shop/deli counter toward the back of the shop. Inside Highland Park's newest secret deli and market, customers can find sandwiches with house-made breads by pastry chef Isa Fabro as well as a wide range of spirits plus "Coldest in Town" domestic and craft beers. tinfoillg.com
Los Angeles Shopping Updates
AT MATEO (Arts District) – Opening March, this $32.5 million joint venture, will transform five large warehouses occupying a huge block at the corner of Mateo and Palmetto into an open-air 130,000-square-foot retail hub consisting of top-tier restaurants, boutiques and local services along with approximately 50,000-square-feet of modern, creative office space and 540 covered and well-lit parking spaces. AT MATEO will be activated from breakfast to night, seven days a week. atmateo.com

Beverly Center (Westside) – The Beverly Center has unveiled a massive $500 million renovation plan, aiming to draw more shoppers with increased food offerings and improved open-air designs. The new design will feature a continuous ribbon of skylights to bring more natural light to the eight-story mall's interior. In addition to great retail, an estimated ten dining destinations will be developed, including two by Michelin starred, James Beard Award-winning Chef Michael Mina. Renovation to be completed by holiday 2018. beverlycenter.com

Oceanwide Plaza (Downtown) – Oceanwide Plaza will introduce globally inspired sophistication to Downtown Los Angeles, featuring the new Park Hyatt Los Angeles, a collection of residential offerings and an open-air retail destination. The retail and dining collection at Oceanwide Plaza will offer a selection of shops and restaurants, a 50-foot open-air galleria and a third-floor deck overlooking the Staples Center and L.A. Live. Completion of Oceanwide Plaza is expected by the fourth quarter of 2018. oceanwideplaza.com

ROW DTLA (Arts District) – First known as the LA Terminal Market, ROW DTLA was built from 1917 to 1923 along the Southern Pacific Railroad and for years was a major hub for the distribution of produce across the region. The space is undergoing historically sensitive renovations. When completed, ROW DTLA will include over 100 of the most progressive shops and restaurants from across the city and world. ROW DTLA will be a new center uniting food, fashion, creativity and innovation. Now open at ROW DTLA is, the space is Smorgasburg LA, open every Sunday and newly opened, GOSSAMER a vintage lifestyle brand created from the love of timeless pieces and beautiful items, inspired and named after the gauze or silk fabric of the very finest texture. Another new opening is official launch of the Spring Collective, which brings together a unique mix of fitness classes, a female co-working space, designers, artists, and retailers to the industrial storefronts at ROW DTLA through the end of April. rowdtla.com

The Bloc Downtown (Downtown) – The Bloc opened on June 16, 2016 after a $180 million transformation from a 1970s-style mall to an open-air urban destination. The Bloc now offers Angelenos a curated experience of design-oriented, artisanal retailers and restaurateurs. The anchor property includes a flagship Macy's store, Free Market and Davio's Northern Italian Steakhouse. A state of the art, creative-leaning office building and the glamorously renovated 496-room Sheraton Los Angeles Downtown also anchors the mixed-use project, making The Bloc a truly vibrant 24-hour hub where Angelenos can work, sleep, shop and eat at any time of the day or night. Opening soon is Free Market, a marketplace and hub for cultural exchange brought by DTLA creative agencies known for retail concepts Apolis and Alchemy Works and Otto Design Group. Also soon-to-open is Alamo Drafthouse Cinema, where the hottest indie, foreign and repertory films are served up with craft beer, gourmet chow and a famously strict movie etiquette policy. theblocla.com

Westfield Century City Mall (Century City) – The modernization and beautification of Westfield Century City will create the ultimate L.A. destination for fashion, flavor and relaxation. This idyllic open-air retreat will showcase the world's finest luxury boutiques and favorite on-trend brands, alongside a new flagship Nordstrom, Bloomingdale's and Macy's. Guests will indulge in over 55 eateries serving seasonal and local delights, a new outdoor dining district, and the West Coast's first Eataly featuring authentic Italian flavors and a not-to-be-missed rooftop lounge scene. In between shopping and dining, guests will take in the showcase of local arts and entertainment, or simply relax and unwind under the Southern California sky. Shoppers visiting from near and far will be invited to visit the dedicated Tourist Lounge to meet our concierge, store luggage and receive special savings for traveling shoppers. The new Westfield Century City will open in phases beginning in 2017, but shoppers can continue to enjoy over 40 shops and restaurants open now, including Bloomingdale's, Gucci, Tiffany & Co, Rolex and Meizhou Dongpo.
westfield.com/centurycity
Los Angeles Alternative Transportation Updates
Great Streets Initiative (Mar Vista) – A vibrant section of Venice Boulevard is getting a series of pedestrian safety improvements thanks to Mayor Eric Garcetti's Great Streets initiative - bringing new life to a Mar Vista neighborhood where Angelenos can gather to shop, dine, and enjoy a popular Sunday farmers' market. Once complete, the improvements will include four new signalized pedestrian crossings there will also be pedestrian head starts at nine Venice Boulevard intersections. lagreatstreets.org

Metro Bike Share (Downtown) – Downtown Los Angeles's first bike share program started on July 7, 2016 with nearly 1,000 bicycles available for short-term rentals. The rentals will be available at 65 kiosks located near Downtown L.A. transit stops and other densely populated areas. Each rental station has a touchscreen kiosk, a map of the bike share system and Metro Bikes. There is a $40 annual fee (waived for qualifying low-income riders) and a monthly pass for $20. bikeshare.metro.net

Metro Expo Line and Gold Line Foothill Extension (West L.A.) –To be completed by 2023, the Purple Line Extension will extend westward for about nine miles with seven new stations. Destinations along the new Purple Line Extension will include Miracle Mile, Beverly Hills, Century City and Westwood. metro.net

Pedestrian Passageway (Downtown) – In a first for L.A., there is a new pedestrian passageway directly connecting the 7th Street/Metro Center Station with The Bloc in Downtown L.A. The project is a successful public-private partnership that will also help meet future ridership demand at the expanding 7th Street/Metro Center Station, one of the busiest stations on the Metro Rail system.
Discover Los Angeles Updates
Summer dineL.A. (Citywide) – For its ninth year, Summer dineL.A. returned from July 14 – 28, 2017. dineL.A. is a 15-day dining event that takes place at over 300 restaurants throughout L.A. county, offering specially priced lunch and dinner menus.

carfreeL.A. (Citywide) – Discover Los Angeles has made it easier than ever to experience L.A. without a car. CarfreeL.A. features a series of self-guided "car free" vacation itineraries that offer a new way to experience the hidden gems of L.A.'s diverse neighborhoods via foot, bike and Metro. discoverlosangeles.com/CarFreeLA