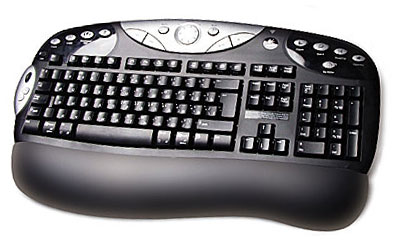 Logitech today unveiled two products that will enable the PC to become a control center for Bluetooth mobile devices. These two new Bluetooth products, a cordless mouse and a cordless mouse-and-keyboard combination, both come with a hub for wireless connectivity between a desktop PC and Bluetooth mobile devices. Both free people from the cords and cables that typically tie them to their PC, enable convenient synchronization between the PC and the calendars and address books that reside on a mobile phone or PDA, and integrate PC and mobile phone technologies to provide greater flexibility for voice and messaging communications.
The Logitech MX900 is a Bluetooth mouse with an advanced optical sensor and a charging cradle that acts as a Bluetooth hub, providing the ability for mobile devices to exchange and share information with the personal computer, without cords. The Logitech Cordless Desktop MX for Bluetooth is a Bluetooth keyboard and a Bluetooth optical mouse with a Bluetooth hub. Both products provide a secure, reliable 30-foot cordless connection to the PC.
The two products reduce cord clutter by untethering the mouse (or the keyboard and mouse) and even any Bluetooth printers from the desktop PC. The wireless communications capabilities of the new products include:
Wirelessly synchronizing information (e.g., address book, calendar) stored on a mobile phone or PDA with a desktop PC.
Managing Short Message Service (SMS) text messages directly from your PC with the bundled Logitech Mobile Phone Suite for Bluetooth. The onscreen SMS notification feature keeps continuous communications simple by providing the ability to use the PC to respond to messages sent to the mobile phone.
Enabling you to wirelessly download pictures taken from a camera-equipped, Bluetooth mobile phone to a PC.
Using a Bluetooth wireless headset, such as the new Logitech Mobile Bluetooth Headset, with the PC. A Bluetooth wireless headset with the PC allows people to use voice with instant messenger applications, listen to streaming audio or converse using a voice-over-IP application -- with a wireless range of 30 feet from the PC.
The Logitech Cordless Desktop MX for Bluetooth is designed for comfort with a Zero Degree Tilt and includes multimedia controls as well as specialized navigation buttons. The keyboard is painted with an attractive quartz anodized and silver finish, and the mouse complements it with the same color scheme. The recharging base for the mouse is the wireless hub and it is painted in matching quartz anodized and translucent black.
The Logitech MX900 mouse borrows the popular contoured shape of Logitech's MX700 for a comfortable design, and features advanced Internet navigation buttons. The eye-catching mouse is painted with a silver and quartz anodized finish. The receiver is bright silver and translucent black. It serves both as a recharging base for the mouse and as a wireless hub.
Both the Logitech Cordless Desktop MX for Bluetooth and the MX900 Bluetooth mouse are compatible with the Windows 2000 and Windows XP operating systems.