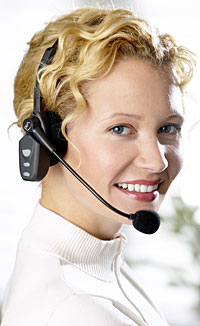 VXI has introduced a home wireless headset system compatible with corded or cordless telephones. The headset lets people go completely wireless and hands-free at home - whether they are using a corded, cordless or Bluetooth-enabled mobile phone.
"BlueParrott is designed for busy people looking for new ways to be more efficient, enjoy greater freedom of movement and reduce the physical strain caused by using hand-held telephones," said Richard Hale of VXI.
Utilizing new Bluetooth technology, the system lets users enjoy high quality, clear audio input and output across a wireless connection in their home extending up to 75 feet. The Bluetooth connection also allows users to answer and end calls remotely, control volume and other audio selections simply by pushing a button on the headset.
The Blue Parrot B100 Wireless Headset System includes:
Compatibility with all cordless and corded single-line, and Bluetooth-enabled mobile telephones
Operation with call waiting and three-way conferencing
Professional noise canceling microphone to reduce background noise
Volume controls, answer and end call, pairing, mute, call waiting and three-way conferencing controlled by buttons on the headset
A lightweight, ergonomically balanced headset for all-day wearing comfort
Continuous talk time up to six hours and standby time up to eight days
Headset base serving as a headset mount and continuous charger
Compact, sleek styling complementing other contemporary communications devices for the home
128 Bit digital encryption provides air-tight security during wireless communication
AC adapter
The BlueParrott B100 system is part of a full line of professional-class headset products - including new vxi Parrot headsets and accessories. vxiParrot model headsets provide a range of microphones, amplifiers, booms, ear cushions, and other features and technologies, and connect directly to corded, cordless and mobile telephones, and computers.
VXI designs and develops telephone headsets for the home and business.