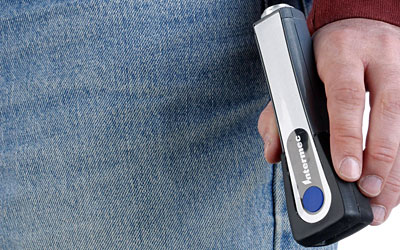 Intermec's SF51 cordless scanner combines the unique form factor of a flashlight with a quick attach-release mechanism for extremely comfortable and durable scanning. The SF51 incorporates a wireless personal area network (PAN) radio based on Class 1 Bluetooth wireless technology so the scanner can communicate with any Bluetooth-enabled computer, including Intermec CV60, CK30 and 700 Series mobile computers, without the need for a base station.
A 10-hour battery life delivers more than 5000 scans, making the SF51 ideal for mobile or vehicle-mounted computers that support scan-intensive applications in logistics/transportation, warehousing and distribution, manufacturing, parcel delivery and field service industries.
The scanner's compact design allows it to easily fit in a hand. It can be clipped to a belt or chest pocket and, thanks to a unique mechanism, can be attached and released without looking. This allows users to quickly and simply access and release the scanner when it is needed and then easily reattach it for unfettered use of hands while working.
The SF51 integrates Intermec's SmartSystem technology, which allows you to configure devices simply by turning them on. SmartSystem automatically synchronizes all devices on the system, automatically testing each SmartSystem-enabled device at start-up. An Intermec blue Ready-to-Work indicator then illuminates, signaling the device is ready for a full shift of operation.
The SF51 uses the Intermec EV10 linear scan engine, delivering flexibility by combining high density, PDF417 and standard range bar code reading in one scan engine. The solid-state scan engine delivers 200 scans per second and easily reads poor-quality and damaged bar codes from up to 50cm away.
As many as seven SF51s can connect to a single mobile computer or PC, reducing the amount of hardware necessary to equip a team of workers. Using the Bluetooth discovery or Intermec patented Quick Connect system, a user can establish a link to a new host simply by scanning a bar code with the SF51.
The SF51's over 100-foot range allows users to leave the more expensive host device in their truck while performing routine scanning tasks, and its 70 decibel speaker and vibration mode overcome extremely noisy work environments.
Accessories for the SF51 include single and 4-bay chargers, belt-mounted, wrist-mounted, and chest-mounted holsters, and a USB Bluetooth adapter for connection to a PC.