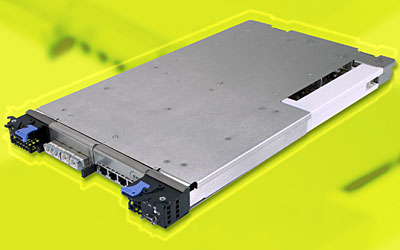 A new carrier blade for IBM BladeCenter systems is capable of hosting up to four AdvancedMC modules to create application-specific blades from standard off-the-shelf SBS Telum modules and other third-party AdvancedMC cards.
The BCT4-AMC1 from SBS is ideal for system designers creating high-performance telecommunications solutions using AdvancedMC modules with specific networking features such as LAN/WAN and storage I/O capabilities. The modules allow BladeCenter servers to be optimized for next-generation IP Multimedia Subsystem and Fixed Mobile Convergence IP-centric applications.
"This carrier blade helps extend BladeCenter Server communications input/output and Telecom clocking capabilities. A BladeCenter server can now be used for building convergent IMS media processing and signaling gateway solutions. For example, our carrier blade enables the BladeCenterT server to be configured to support next generation FMC applications such as IPTV and WiMax," said Rubin Dhillon of SBS.
The BCT4-AMC1 offers two AdvancedMC bays accessible from the blade's front and two internal bays that are accessible from the side. To help reduce equipment downtime, the BCT4-AMC1 supports hot swap capability for the front bay AdvancedMC modules and for the carrier blade itself. For broad flexibility, the blade's front bays support extended AdvancedMCs and all bays support full height single- or double-width AdvancedMC modules.
Adding system robustness, the blade's Baseboard Management Controller communicates with the chassis Management Module by using two redundant RS485 interfaces to the blade's backplane. To manage the PCI Express root complex a processor AdvancedMC single board computer may be installed in the second bay.
SBS designs and builds embedded computer products including processor boards, input/output modules, networking devices, and complete computer systems.