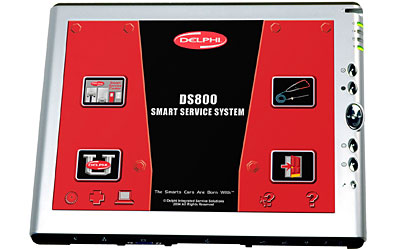 Genuine Parts Company will co-market Delphi's diagnostic solutions and advanced diagnostic products to NAPA AutoCare Centers and other repair facilities.
In support of NAPA's Fully Integrated Technology (FIT) concept, Delphi's Smart Service System product will be co-branded Delphi NAPA Smart Service Systems. The Delphi Smart Service System is a state-of-the-art, wireless and integrated solution that provides total process integration with the front shop (customer-facing vehicle inspection, service invoicing and parts ordering) and the back shop (diagnostics, just-in-time information and repair) allowing a repair facility to operate more efficiently and profitably. The advantage of this solution in the FIT concept is provided by the linkage of the Delphi Diagnostic System and the NAPA TRACS shop management application at the repair order level, facilitating more streamlined operations. It also supports overall shop-wide operations with high-end training and information to ensure that vehicles are fixed fast and correctly the first time, minimizing costly come-backs.
In addition to providing advanced diagnostic solutions for NAPA, Delphi provides a wide variety of OE quality vehicle electronics including engine management systems, fuel management products and heating and cooling parts to select NAPA locations nationwide.