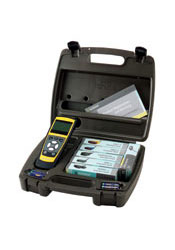 AutoXray, the leading provider of cost-effective, automotive diagnostic scanners, has the ideal Father's Day gift for dads, grandads or any "Do-it-Yourselfer" on your Father's Day list. The EZ-Scan and EZ-Read line of diagnostic scan tools, developed by automotive diagnostics pioneer AutoXray, allows even the novice to determine what's wrong with their car when the pesky Check Engine Light blinks on.
Both the EZ-Scan and EZ-Read products require the users to simply plug the device into the diagnostic connector, enter the type of vehicle and press the scan button. The EZ-Scan will report back on how your vehicle is performing in plain English and even let you turn off the Check Engine Light if the proper repairs are made.
A brand new accessory to the line is the EZ-Charge Check, which is used with the EZ-Scan and allows the user to monitor the performance of their battery. With summer around the corner, the EZ-Charge Check is a convenient tool that will chart the efficiency of your battery to make sure power is not dissipating due to direct sunlight and extreme heat.
The AutoXray line of diagnostic equipment can be used with every vehicle model year 1996 and newer and domestic vehicles 1982 to present -- so one tool can maintain all the cars in your home. With prices that begin around $159.99, you can now prevent time consuming and expensive trips to the shop by determining your automobiles' technical problems, giving you a choice of either repairing them yourself or seeking the help of a professional technician.
"These tools can also be kept up-to-date and upgraded to include the latest changes in technology with the software available on our Web site," said Bill Miller, president of AutoXray. "They are also the first diagnostic scan tool on the market to support the automotive industry's new standard-Controller Area Network or CAN, which will become a federal requirement in 2008."
EZ-Scan and EZ-Read diagnostic tools are available at retailers including Checker, Schrucks and Kragen Auto Parts, O'Reilly Auto Parts, and NAPA. AutoXray's family of diagnostic scan tools and code readers are also available in Spanish.
AutoXray has received numerous accolades and awards from trade and consumer publications and has been the recipient of Popular Mechanics Editor's Choice award three of the last four years and was named a 2003 Motor Magazine Top 20 Tool.