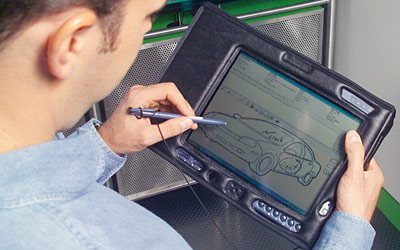 Mobile Service Advisor is a new software tool connected via a Tablet PC and wireless network designed to speed up service department repair order processes and help improve the customer experience.
Mobile Service Advisor, an integrated extension of the new Reynolds ERAXT dealer management system, enables dealership staff to access critical customer, vehicle, service, and operational data. With the ERAXT tool, service advisors can greet customers, perform thorough vehicle inspections and efficiently write-up repair orders; and electronically capture and print customer signatures - in front of the vehicle rather than from behind a counter.
"Mobile Service Advisor allows retailers to spend additional time focusing on the customer in the service drive rather than traveling to and from their work station for information," said Rob Leary of Reynolds. "Access to ERAXT and the dealership's network significantly reduces customer wait time during the repair order write-up, helping to improve customer satisfaction."
As an extension of the ERAXT system, Mobile Service Advisor connects service advisors to the system enabling them to review information including vehicle service history, manufacturer campaign and recall information and more. The streamlined repair order process allows the service advisors to quickly identify necessary services, provide estimates, and receive the customer's electronic signature without leaving the vehicle. This solution also enables service advisors to complete a vehicle inspection and record the condition of the vehicle's exterior and interior. This feature helps to reduce fraudulent shop claims and capture additional service revenue.
"Mobile Service Advisor is a powerful tool that has greatly helped our service departments," said Darren Eagle of John Eagle Dealerships. "By being out at the car with customers, advisors are able to provide better service and save the customer a tremendous amount of time. Mobile Service Advisor allows us to save an average of nine minutes per customer. This gives advisors more time to talk with customers and to suggest additional repairs and maintenance."
Leary explained, "Mobile Service Advisor allows the advisor to consult and sell additional services where it makes sense - at the customer's vehicle. Both the customer and service advisor benefit from the time savings and the ease of business it enables."
To further increase time savings, dealerships can opt for a built-in bar- code scanner. The bar-code scanner allows a service advisor to capture a vehicle's VIN to quickly identify a customer and access their service records.
To run Mobile Service Advisor, a Wireless Local Area Network (WLAN) infrastructure is required. Cisco provides the secure, business class wireless LAN infrastructure needed to support and enable Mobile Service Advisor.
"Combined with Cisco Aironet Series Access Points, the Reynolds Mobile Service Advisor provides automotive dealerships with seamless, reliable and secure access to business critical information and data from their Tablet PC so that more time can be spent interacting with customers rather than behind a desk", said Ron Seide of Cisco.
The lightweight, well-balanced Tablet PC has a large 10.4" color indoor/outdoor screen and comes with a custom bump case. The tablet's new compact docking station enables the PC to also be used as a traditional workstation, saving valuable space at a service advisor's workstation by eliminating large desktop hardware.
Reynolds provides retail and enterprise management systems, Web and Customer Relationship Management solutions, learning and consulting services, documents, data management and integration, networking and support, and leasing services.