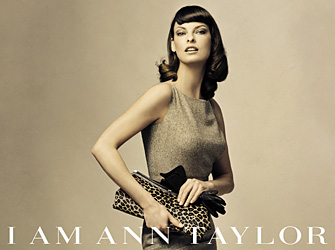 In celebration of its 50th ANNiversary, Ann Taylor will unveil a new multimedia campaign entitled "I am Ann Taylor . . . Celebrate 50 Women. 50 Years", featuring print and in-store components as well as an exclusive website throughout August and September 2004.
Famed photographer Annie Leibovitz shot the entire campaign, which features icons of the modeling industry as well as emerging names from every generation and background, to illustrate the evolution of the brand.
Famous figures from fashion past, present and future, such as Linda Evangelista, Cheryl Tiegs, sisters Audrey and Angela Lindvall, Patti Hansen (alongside her daughters Alexandra and Theodora Richards), Shalom Harlow, Karen Elson, Dayle Haddon, Dalia, Heather Marks, Yasmin Le Bon, sisters Missy and Frankie Rayder, Hunter Reno, Karen Alexander (alongside her daughters Ella and Zora), Ling and Ein, Mini Anden, Elaine Irwin Mellencamp, Beverly Johnson, Twiggy and many other notable women, were chosen to represent "The Ann Taylor Woman" in terms of style, substance and personality.
The women wore the brand's sophisticated, ultra-feminine looks from the fall 2004 collection, which has a renewed focus on sportswear classics. The campaign was designed to pay homage to the brand's rich history with fashion presented classically and to infuse the brand's timeless fashions with a personalized flair for the modern Ann Taylor woman. The campaign also introduces a redrawn logo which expresses both the heritage and the modernity of the brand.
"From its beginning in 1954, Ann Taylor has worked with some of the world's most beautiful women," said Jerome Jessup, Senior Executive Vice President, Ann Taylor. "In 2004 we wanted to celebrate that idea -- not just the incredible beauty of these women, but their true selves as women at their best, which has been the DNA of the Ann Taylor brand from day one. To put it succinctly, we chose women we love that best represent the extensive appeal of the brand."
The campaign rollout includes an extensive media buy for the September issues of W, Vanity Fair, Harper's Bazaar, Elle, O The Oprah Magazine, InStyle and Vogue with each magazine receiving different photographs from the campaign. Vogue will run a 50-page I am Ann Taylor insert in the New York, Los Angeles, Chicago and San Francisco editions and a two-page spread in the national edition of its September issue. Also in September, the campaign will run movement print spots for two consecutive weeks on the Times Square Astrovision screen in New York, as well as floor-to-ceiling imagery in Ann Taylor store windows nationwide, August through September. Immediately following Labor Day, over 1 million direct marketing catalogs are being sent to Ann Taylor clients and prospects.
Ann Taylor launched a website the week of August 9 that provided visitors with the opportunity to pre-order the Fall ANNiversary collection before it was available in stores. The site featured an online forum where visitors could submit their Ann Taylor-related stories for publishing consideration and exclusive behind-the-scenes footage from the I am Ann Taylor photo shoot, which was created by model/filmmaker Kate Elson, sister of model Karen Elson who is featured in the campaign. An online and in-store $50,000 wardrobe sweepstakes will also launch nationwide on September 2 to coincide with the brand's anniversary.
Ann Taylor is one of the country's leading women's specialty retailers, operating 685 stores in 45 states, the District of Columbia and Puerto Rico.