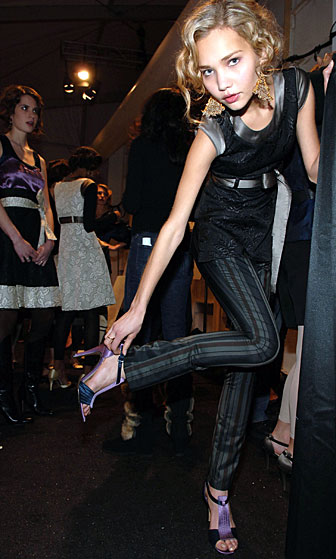 Payless has joined with Laura Poretzky to create the Abaete for Payless designer shoe collection, making its debut at New York Fashion Week.
"Payless is dedicated to bringing fashion and fun to the consumer and that includes making the latest footwear and accessory trends available at a great price," said CEO Matt Rubel. "The hottest runway looks are an essential element in our inspiration and our alliance with Laura Poretzky is an exciting first step to bring runway looks to reality for women across America."
Inspired by Laura Poretzky's signature sophisticated style and designed to complement her Fall/Winter 2006 ready to wear collection, the Abaete for Payless runway shoes includes four styles: the Sky boot, Casey flat, Oliver pump and the Luke evening sandal. Each silhouette features a range of colors, fabrics, and details such as stitching, polka dots, and bows designed to enhance the collection. The styles featured on the runway will be the inspiration for the Abaete for Payless footwear collection, which will be exclusively available from Payless.
"It's wonderful to have the opportunity to create something that every woman can wear. This alliance with Payless was the perfect opportunity for me to have my designs worn by women across America" said Laura Poretzky
Laura Poretzky designs under the Abaete label. After the launch of her successful swimwear line, Laura extended her designs into a complete line of ready-to-wear and footwear.