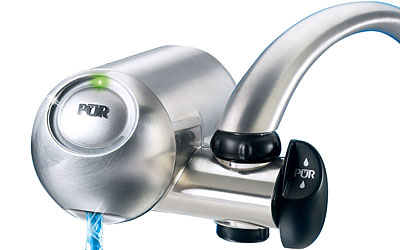 The maker of PuR water filters, The Procter and Gamble Company, continues its commitment to consumer focused innovations in water filtration by announcing the launch of the first ever 3-stage water filter.
"With our new PuR 3-stage filtration system consumers can have clean, healthy, great tasting water from filters that are easy to install and use at home, economical, and have a positive appearance that matches their lifestyle" said Mr. Clark Reinhard of PuR. "No other household faucet filter on the market incorporates these three stages into the filtration process."
The new PuR 3-stage filters will help provide consumers with the clean, healthy, great-tasting water they desire. Stage 1 cleans the water by filtering sediment, such as dirt and rust. Stage 2 provides healthy water by reducing 31 potentially harmful contaminants. Stage 3 filters water over a natural bed of minerals for a crisp, refreshing taste.
The system uses PuR blue filters, which are readily available and easy to replace. Importantly, these new PuR filters provide the three stages of filtration while leaving beneficial fluoride in the filtered water - an element often missing from some bottled water and other filtration systems. These new 3-stage filters, like current PuR filters, also reduce a variety of harmful chemicals and contaminants, including heavy metals, chlorine and chlorination by-products, agricultural pollutants, and industrial pollutants. The filter also reduces 99.99% of microbiological cysts.
The new PuR 3-stage filters are now available to consumers where current PuR filters are sold.