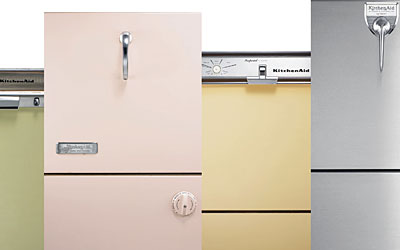 KitchenAid is searching for the country's longest running KitchenAid model. The grand prize winner will receive a $15,000 kitchen appliance makeover from KitchenAid, including a dishwasher from the new 2005 model line.
"This is a great way to honor one of the true icons of our product line," said Brian Maynard of KitchenAid. "First introduced in 1949, it helped to establish the brand's reputation of high performance and durability."
Consumers will be able to enter from May 1 through August 31. In order to qualify, entrants must own the dishwasher and it must be functioning. The form must include the dishwasher's serial number. In addition to the grand prize winner, ten first prize winners, selected randomly from all entrants, will receive two dishwashers, one for themselves and one to share with a friend or family member. The first 5000 submissions will receive $100 mail-in rebates.
Josephine Cochran, inventor of the original dishwasher and owner of the company that eventually became part of KitchenAid, would be proud to see how far the original has come since she introduced it at the 1896 World's Fair. For example, the new 2005 line of standard size dishwashers offer a wide range of performance and styling options to suit any cook's needs. A removable culinary tool rack positioned above the upper rack can accommodate an assortment of large utensils, knives and silverware. The new ProScrub wash device delivers heavy-duty cleaning for items like pots or casserole dishes. The heavy-duty items are placed in a specific area of the dishwasher where increased water pressure is delivered at frequent intervals. An optimum wash sensor system optimizes energy and water consumption by automatically adjusting the wash cycle based on the water hardness and food particles in the water.
Every dishwasher has a lifetime full warranty on the commercial grade stainless steel interior and can hold up to 12 place settings of 12-inch plates. All models have a hard-food disposer and self-cleaning filter for clean dishes without prerinsing. Other thoughtfully designed interior options include a customizable lower rack, specially designed cup shelves and wine glass holders,
Beyond the standard dishwasher, KitchenAid also offers the industry-first briva in-sink dishwasher. Configured as a double sink, with one side of the sink housing the dishwasher, the briva in-sink dishwasher is capable of cleaning light loads up to three times faster than standard full-sized dishwashers when used with the optional high-performance water heater. The dishwasher rack and jet are easily removable, allowing both sides to be used as sinks.
The recently introduced drawer dishwasher features two drawers that pull out smoothly to reveal separate dishwashers capable of washing two loads simultaneously at completely different cycle settings. Its sleek and functional configuration allows for washing delicate items, such as crystal and stemware, separately from pots, pans and other heavy-duty kitchenware. Other practical uses include washing smaller loads with less water and energy consumption compared to a standard full-sized dishwasher, and washing dishes in one drawer while temporarily storing clean dishes in the other drawer.
"From configurable racks that accommodate a greater range of cooks' tools to a new kind of dishwasher that makes clean-up easier while cooking and entertaining, each of the many advancements we offer has been designed with cooks in mind," says Maynard.
With a shortage of time to clean, everyone needs shortcuts to make their home clean and sanitized. Using a dishwasher for more than dishes can make cleaning a breeze.
"Since the water in a dishwasher is usually above 130 degrees, items get sanitized. This makes for simpler cleaning and gives you peace of mind," said Amy Olson of The Maids Home Services. "Make sure items are dishwasher safe and items are placed securely on the racks away from the heat source."
Here are some alternative uses for your dishwasher:
Teethers, pacifiers and some small toys for infants and toddlers can be washed and sterilized in your dishwasher. Simply place the items securely on the top rack, turn off "heat dry," and run the dish load as usual.
To get a baseball cap clean, put it in the dishwasher on the top rack. While still wet, stretch it and reshape the bill, and put it over a pan or bowl to air dry.
Dried soap and shampoo on shower caddies and soap dishes disappear after running them through the dishwasher.
Disinfect and clean your toothbrush and toothbrush holders in the dishwasher. Especially after battling illness, you will know these items are sanitized.
Each time you run a dish cycle, throw in your kitchen sponges and secure them on the top rack. The heat of the water will help kill the mold, bacteria and germs.
When doing top-to-bottom cleaning, put your glass light fixtures in the dishwasher to get rid of the dust and bugs instead of washing by hand.
If you use a Downy Ball or if your washing machine has a detachable fabric softener or bleach dispenser, add these items to your dishwasher load to help easily remove scum and grime.
The Maids Home Services provide local home cleaning throughout the country.
KitchenAid introduced its first dishwasher in 1949.