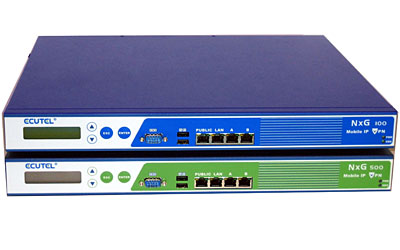 Two new appliances have been built on Ecutel's flagship software Viatores, the industry leading Mobile IP and IPSec solution that provides customers with the ability to roam across network boundaries while maintaining application session persistence and complete VPN security.
Ecutel's newest appliances, both of which enable mobile workers to remain always connected to their corporate resources and always protected over any IP network, are branded Viatores NxG 100/500 Mobile IP VPN Appliance (supporting either 100 or 500 simultaneous users).
"Most users and network managers tend to think of wireless security as being purely a wireless problem," said Craig J. Mathias of Farpoint Group. "They really need to think in terms of overall network security, and Mobile IP combined with IPSec offers a powerful solution for the mobile worker."
Viatores NxG 100 and NxG 500 offer the enterprise an affordable and simple way to deploy their Mobile IP VPN that is virtually "plug and play". The browser based administrative interface has quick setup procedures that can get the average enterprise up and running in minutes with five simple steps. The following features are supported:
1U Rack mountable design
Additional support for dual 10/100 mbps Ethernet adaptors
Authentication support for RADIUS, LDAP, Microsoft Active Directory, Local and others
Browser based configuration, management and monitoring
Device management control and policy enforcement
Expandability whereby multiple appliances can be aggregated to support additional users in a load balanced scenario
Hardened Linux kernel for optimized security and performance
Integrated Firewall Capability
Logging and reporting functionality
Meshed load balanced architecture
NAPT traversal support
PKI support for certificates and smart cards
Quick-start configuration and set-up
Security policy management for endpoint devices
Standard dual Gigabit Ethernet adaptors for fast throughput
Supports multiple network deployments for public, private or DMZ segments
Trusted Intel Architecture
Utilization of FIPS cryptographic algorithms
Ecutel (now part of SmithMicro) provides wireless security and enterprise mobility software.