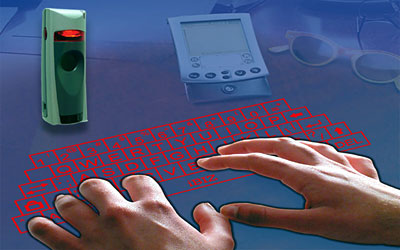 The Virtual Laser Keyboard is among the PDA technologies presented by iBIZ at CeBIT.
The Virtual Laser Keyboard leverages the power of laser and infrared technology and projects a full-size keyboard onto any flat surface. As you type on the laser projection, it analyzes what you're typing by the coordinates of that location.
Unlike many small snap-on keyboards for PDAs, the Virtual Laser Keyboard provides a full-size QWERTY keyboard including Function keys. It is also smaller and more convenient to use than the folding-type keyboards made by some manufacturers and similar to them in functionality.
There are no mechanical moving parts whatsoever in the Virtual Laser Keyboard. It provides a projected image that is the perfect portable input device for PDAs. It's similar in responsiveness to regular keyboards, but extremely futuristic looking.
The Virtual Laser Keyboard requires no special training. The light-weight device weighs only two ounces and is similar in size to a disposable cigarette lighter. The Virtual Laser Keyboard includes a self-contained, user-replaceable rechargeable Lithium-Ion battery. It provides the Virtual Laser Keyboard with its own internal power supply, so it doesn't drain any battery power from the PDA or PC. The battery lasts three to four hours, more than enough time to do some instant messaging and SMS messaging from the handheld device or to update calendar and phone book entries.
"With the overwhelming response on our products at the Consumer Electronic Show in January, we are anticipating a warm reception for our products in Europe and abroad. Europe is the second largest hand held computer market and we believe the time is ripe to showcase our unique line of products by introducing them at the world's largest computer technology forum, CeBIT," commented Mark Perkins, Executive Vice President, iBIZ Technology Corp.
iBIZ is showcasing a number of other PDA products at CeBIT, including:
Blue Dock, the world's first docking station to allow Palm / Pocket PC handhelds to function as a primary computing platform in a work place environment, without the need for an additional workstation or laptop.
FM Pocket Radio for Pocket PC handheld computers supporting a compact flash expansion slot and for the first time being introduced to the European IT Community. Now Pocket PC users, along with Palm users, can tune into FM Radio anytime & anywhere.
New SD (Secure Digital) Pocket Radio for the entire line of Palm Handheld computers supporting an SD Interface.
Xela Keyboard for Palm handheld computers, the only keyboard on the market, designed for conventional two-handed typing as well as single-handed input. iBIZ's patented design also allows the Xela Keyboard to transform into a Case for your PDA right before your eyes.
iBIZ makes and distributes accessories for personal digital assistant (PDA) and hand-held devices.