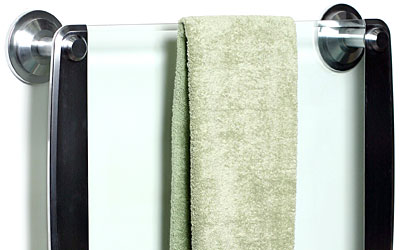 A new line of luxury towel warmers from Engineered Glass Products was developed for a luxury hotel. EGP hopes to expand the market for Hot Glass towel warmers to upscale hotels and homes nationwide. Hot Glass is transparent, stylish, and sanitary. It uses transparent thin film conductors to provide uniform heating across the entire glass surface. When used in a towel warmer, this technology provides luxurious, fresh-from-the-dryer warmth.
"Consumers have been limited to traditional radiator design when looking for the comfort towel warmers offer. Now, they have a beautiful alternative that also performs exceptionally well. Try it once and you'll see it's the kind of luxury you won't want to live without," says Mike Hobbs of Engineered Glass Products.
Towel warmers are just the beginning. The company's engineers are continuing to expand the range of applications for the technology they invented. EGP is seeking out new business partners in a variety of industries to help customize new hot glass products for specific needs and niches. Hot glass is already under development for use in radiant heated glass windows, as well as for use in appliances, office furniture, and more.
"We're pioneering a brand new technology. The range of applications is almost limitless, and our engineers are breaking new ground every day," says Hobbs. "We believe Hot Glass will soon become commonplace and indispensable in the kitchen, in the bathroom, and at the office."