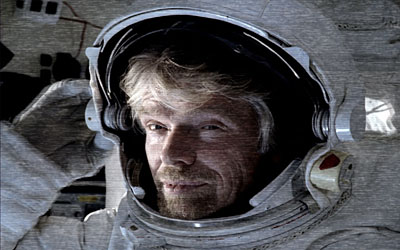 Volvo made history during its first-ever Super Bowl advertisement by announcing it will give away a chance to win a seat on Virgin Galactic's commercial passenger-carrying spaceship.
In the thirty-second ad, Volvo unveils its new Volvo XC90 V8 SUV by comparing its power to a rocket blasting into space. Near the commercial's end, the ship's pilot reveals himself as billionaire entrepreneur Sir Richard Branson, founder and chairman of Virgin.
Sir Richard's Virgin Galactic -- the world's first commercial space tourism operator -- is planning the debut commercial flight some time in the next two to three years.
After the commercial airs Sunday, Volvo gave away a chance to win a seat on Sir Richard's flight. The value of a seat on the sub-orbital flight -- which also includes three days of pre-flight training -- is $200,000.
"With our first-ever Super Bowl ad, we wanted to create an innovative campaign hook to maximize interest beyond the 30 second commercial," said Vic Doolan, president and CEO of Volvo Cars of North America. "There are few other opportunities that are as innovative and intriguing as going into space. Volvo is likewise known for its innovation, primarily in the area of safety. Adding the unexpected element of space travel to a Volvo brand campaign is something we believe people will never forget."
"The best way to illustrate Virgin Galactic's mission for the safe, affordable exploration of space is to give one person a chance to win, rather than pay for, a seat on our spacecraft," said Sir Richard, who is donating the proceeds from his appearance in the ad to charity. "Partnering with Volvo -- which embodies safety and innovation -- is a natural fit. And Volvo's bringing this to the Super Bowl is marvelous."
"We sought to pre-empt the auto category with an entertaining and compelling commercial that makes the new Volvo XC90 a part of popular culture," said Christopher Ross, global account director on Volvo at Euro RSCG Worldwide, New York. "It's a high impact way to remind people that Volvo is a contemporary, innovative and vibrant brand they should consider."
The technology for Virgin Galactic's spacecraft will be modeled after the world's first privately funded, reusable space vehicle SpaceShipOne, which in 2004 won the Ansari X Prize by becoming the first privately funded, manned suborbital space flight. Taking off from a traditional runway, the spacecraft is powered into sub-orbit by a hybrid engine. During the flight, passengers experience weightlessness, view the stars above and see planet Earth below.
On its return to Earth, the spacecraft morphs into a V-shaped shuttlecock, enabling it to gently drift back through the atmosphere without overheating.