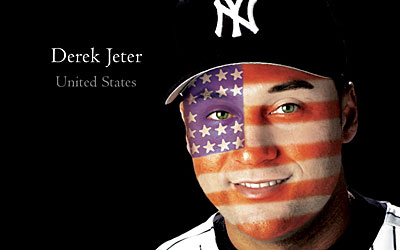 World Baseball Classic will run an advertisement created exclusively for Sunday's Super Bowl broadcast as part of a promotional campaign for the inaugural baseball tournament.
The 30-second spot features seven Major League Baseball players and creatively identifies them with the countries they will represent in the upcoming World Baseball Classic. Included in the commercial are Derek Jeter (United States), Albert Pujols (Dominican Republic), Andruw Jones (Netherlands), Carlos Delgado (Puerto Rico), Mike Piazza (Italy), Ichiro Suzuki (Japan), and Roger Clemens (United States). The spot brings to life the face-the-world theme which is featured prominently in the overall campaign for the tournament.
"The Super Bowl broadcast is the perfect platform for us to showcase the World Baseball Classic," said Baseball Commissioner Selig. "The tournament was designed to promote our game to the widest possible audience and this commercial will help drive excitement for what will be a truly captivating international competition."
The ad is designed to encourage sports fans to make the March tournament a must-see event. Clemens issues a challenge to all viewers by using the tournament's tag line: "I'll be there for my country. Will you be there for yours?"
The ad is part of a campaign that will run during the next two months and will include both national and local broadcast and print advertising.
The World Baseball Classic, a 16-team tournament sanctioned by the International Baseball Federation (IBAF) which runs from March 3 - 20, will feature many of the best players in the world competing for their home countries and territories for the first time ever. The 16 teams invited to participate in the event have been divided into four pools of four teams for the first round of play. The four Round 1 pools will be played at venues in Japan (Tokyo Dome - Tokyo), Puerto Rico (Hiram Bithorn Stadium - San Juan) and the United States (Chase Field - Phoenix, Arizona; Scottsdale Stadium - Scottsdale, Arizona; The Ballpark at Disney's Wide World of Sports Complex - Orlando, Florida). Round 2 will feature two pools of four teams each and is scheduled to be played in Puerto Rico and Anaheim (Angel Stadium). The Semifinals and Final will be played at PETCO Park in San Diego.
The World Baseball Classic will feature a bracket-style format with the 16 teams competing in four groups: Pool A - China, Chinese Taipei, Japan and Korea; Pool B - Canada, Mexico, South Africa and United States; Pool C - Cuba, Netherlands, Panama and Puerto Rico; Pool D - Australia, Dominican Republic, Italy and Venezuela.